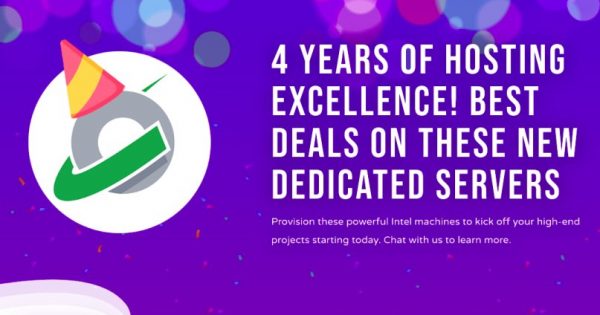 CloudCone here with some awesome Dedicated Server Offers to get you hyped this month. their team will make setting up easier with Fully Managed Support for your dedicated servers. Make it all yours by adding the required amount of funds while the stocks last!
Dedicated Server Offers
Deploy USA based Dedicated Servers at competitive rates and get the most value for your money. These are ideal for SME businesses and load heavy tasks. Backed by fully redundant, multi-gigabit and low latency networks, our Dedicated Servers also come with handy features, intuitive management dashboard, fully customizable plans and more.
Deployed on enterprise-grade hardware; powered by Intel® CPUs.
100% control of processing power and other resources.
Customize your server build during order to fit your needs perfectly.
24/7 available cloud support team.
=> [ Promo Link ]
Test deploy with confidence! Zero risk with our 7-Day Money Back Guarantee.
=> About CloudCone: Click Here
Storage Add-ons
SSD Storage
1 TB SSD: $22.00 per month
2 TB SSD: $33.00 per month
4 TB SSD: $66.50 per month
HDD Storage
1 TB HDD: $2.00 per month
2 TB HDD: $3.00 per month
4 TB HDD: $4.00 per month
10 TB HDD: $33.00 per month
16 TB HDD: 55.00 per month
Other Add-ons
1 x additional IPv4 address: $1 per month
cPanel/WHM License: $34.50 per month for 100 accounts
Windows License: $17 per month
1 x DDoS Protected IPv4 address: $2 per month
Content Delivery Network: $0.045 per GB (45 Pops in 6 continents)
Please configure your Dedicated Server Add-ons through the order page.
Network Information
Datacenter, Server Location: Multacom, Los Angeles, USA
Looking Glass: http://la.lg.cloudc.one
Status Page: https://status.cloudcone.com
200 multiple Tier 1 transit providers such as Amazon, Google Fiber, Japan Telecom, Etisalat, Hutchison, TATA Communications and China Telecom
BGP4 Best-Path routing
Customized routing policies per customer
Latency based routing optimization
Redundant connections and divergent path fiber-optic connections to carriers including Level3, Cogent, Savvis, ACE, TATA, China Unicom
Automatic fault detection and re-routing.