OVH Dedicated Servers March 2020 Coupon & Promo Code – $35 of free credit – 50% discount on dedicated servers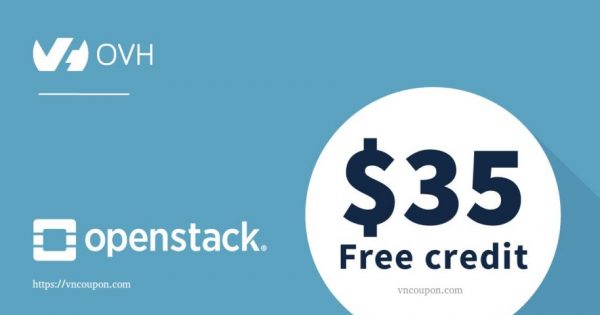 OVH Coupon & Promo Codes on March 2020
☆ Your Virtual Private Server hosted in 🇺🇸 (Vint Hill, VA) for less than 3$ a month is now a reality!
=> Check it out
We recommend Vultr Cloud Service with $103 USD Free Credit.
☆ 50% discount on dedicated servers
For a limited time, they are offering a 50% discount on Infrastructure servers (INF3, INF4, & INF5) at our US data centers. This offer requires a US customer account.
Enter promo code OVH50
☆ Start your project with $35 free credit on Public Cloud
Deploy a fast, flexible and transparent cloud infrastructure with our Public Cloud offer today! Get $35 free credit with the code: K8S-WE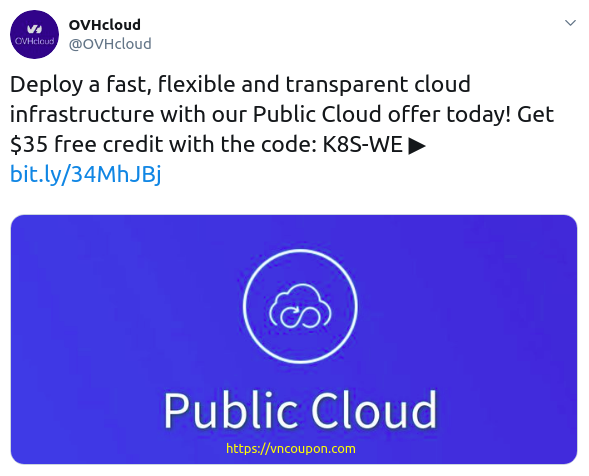 ☆ Winter Sale – 30% off SP-128 and EG-128 servers*
The 2019 OVH Winter Sale continues! Starting today, get 30% off SP-128 and EG-128 Dedicated Servers
=> Order Link
☆ 50% off Game Servers for 3 months
Use promo code: GAME50
=> Promo Link
☆ OVH Storage Dedicated Server(in France) first month free
Use promo code: STOR-TRIAL-WW
This is available for FR accounts.
=> Promo Link
OVH Special Offers
☆ OVH Public Cloud, Now also in Singapore 🇸🇬 and Australia 🇦🇺! Save 50% on monthly usage (
NEW

)

Want to save on your infrastructure costs? Discover a Cloud alternative powered by OpenStack and available worldwide:
Affordable Sandboxes from US$ 3.50
Powerful Instances with guaranteed resources (RAM, CPU, Bandwidth..) Linux & Windows available.
Cloud storage (object storage, cloud archive..)
8 Cloud regions – including Australia and Singapore – spanning 4 continents.
Highly scalable and flexible virtual servers to fit all sort of projects and any budget.
Simple and predictable billing
=> Promo Link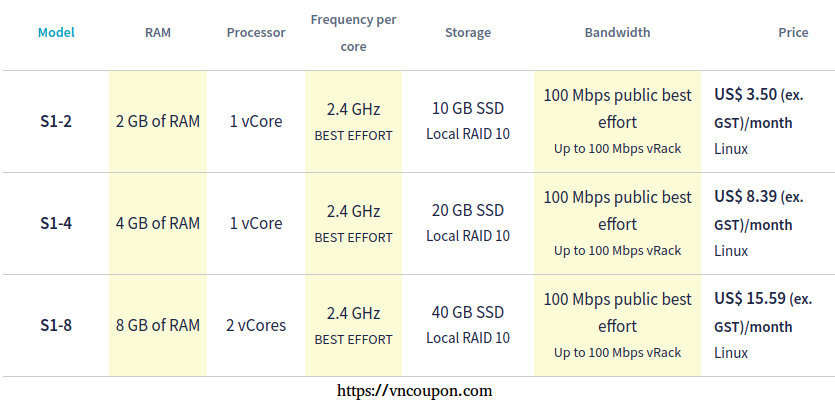 ☆ Australian Dedicated Server A$73/m RECURRING (~60 USD): Xeon E3-1245v5, 32GB RAM
Most popular Dedicated Server DEAL is back… but for a short time!
You can managed your own dedicated server? then look no further! DO-32-APAC Dedicated server:
Limited to 50 servers
Lifetime offer (Advertised price is recurring monthly)
Hosted in Australia (Sydney Datacenter)
All inclusive pricing (for AU residents: ~80 AUD once GST is included)
No lock-in contracts
No setup fees
For Australia & New-Zealand (pricing in AUD): https://www.ovh.com.au/dedicated-servers/enterprise/1806do01.xml
For USD: https://www.ovh.com/asia/dedicated-servers/enterprise/1806do01.xml
DO-32-APAC Dedicated Server specifications:
CPU: Intel Xeon E3-1245 v5 – 4c/8t – 3.5GHz /3.9GHz
RAM: 32GB DDR4 2133MHz
Disks: SoftRAID 2x2TB (SATA disks only)
Uplink: 5000 GB traffic/month at 250Mbps guaranteed bandwidth (1Gbps port) or upgrade to unlimited traffic
Downlink: 1Gbps port – Unmetered
☆ Starting now, you can enjoy a  $18 annual rebate for a 12-month commitment on VPS offers!
Enjoy 2x more storage on the #VPS SSD series …for the same price!
VPS SSD1 : 10 Go SSD 20 Go SSD
VPS SSD2 : 20 Go SSD 40 Go SSD
VPS SSD3 : 40 Go SSD 80 Go SSD
=> Promo Link
Datacenter Sydney – Australia, NSW (Equinix SY2 (multiple room))
Test IPv4 : 139.99.130.17
Test IPv6 : 2402:1f00:8100:211::1
No LG for now in SYD.
Datacenter Singapore – Singapore (Telstra (PacNet))
Test IPv4 : 139.99.8.97
Test IPv6 : 2402:1f00:8000:261::1
No LG for now in SGP.
About OVH
OVH is a global Cloud provider, offering innovative products and services with a focus on private, public and hybrid cloud, and bare metal (dedicated servers).
Founded in 1999, the OVH group manages and maintains 27 datacentres across 4 continents, deploys its own global fibre optic network, and has a full control over the supply chain (from server manufacturing and in-house maintenance of its infrastructure, right down to customer support). OVH offers businesses a benchmark for value and performance in the sector.