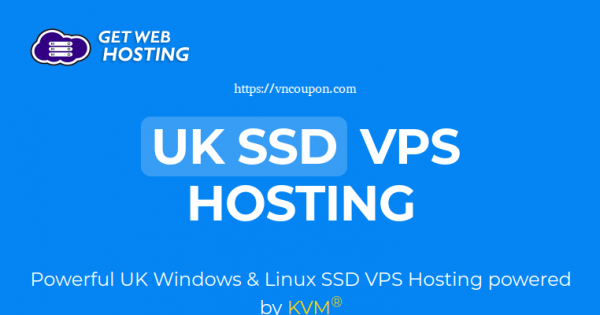 Get Web Hosting (webgethosting.uk) offer blazing fast, reliable UK SSD VPS Hosting using only KVM virtualization technology with super-fast NVMe SSD RAID storage, AMD Ryzen 5 & 7 processors and on one of the worlds largest networks based in south-east London. All their SSD VPS Hosting services come with Anti DDoS Protection, IPv6, IPv4 , Snapshot Backups and Windows licenses included, as well as a large category of operating systems and control panels to choose from.
You can now also customize your VPS via the order process automatically upgrading its hardware, IP addresses and installing a control panel of your choosing. We can now also supply DirectAdmin licenses from only £4.00 a month with all VPS servers.
About Get Web Hosting
GetWebHosting provide High quality and affordable Web hosting, Reseller Hosting, SSD VPS Hosting and Dedicated Servers on a world class infrastructure within the UK.
Powerful Box, Kemp house, 152 City Road, London
EC1V 2NX
VPS Features
Snapshot backups included.
– Windows Included.
– Reboot, Reinstall or configure VPS.
– Low cost DirectAdmin licenses.
– Anti DDoS Protection included!
– Over 16 different Linux & Windows distributions to deploy.
– Super Fast SSD RAID Storage, on London, UK nodes.
– Guaranteed Hardware Resources.
– Upload your own ISOs.
– Instant Deployment
– UK Support.
SSD VPS Offers
Lowend VPS 1
Lowend VPS 2
Lowend VPS 3
LIMITED EDITION VPS (Lowend VPS 4) 5 Available
United Kingdom, LONDON SSD VPS Hosting
UK VPS 1 (NEW)
UK VPS 2 (NEW)
Germany, HELSINKI SSD VPS Hosting
GR VPS 1 (NEW)
GER VPS 2 (NEW)
Finland, Helsinki SSD VPS Hosting
FL VPS 2 (NEW)
France, Gralvelines SSD VPS Hosting
FR VPS 1 (NEW)
FR VPS 2 (NEW)
Payment Methods
– PayPal.
– Credit or Debit Card.
– Bitcoin.
Network Information