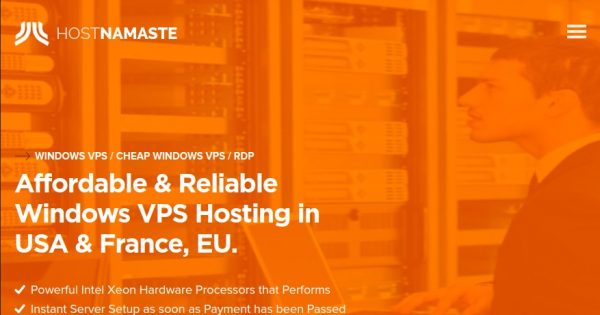 HostNamaste send to us some offers: Cheap Yearly Windows VPS Deals in 4 Locations Los Angeles, Dallas, Jacksonville and France
About HostNamaste: Click Here
Cheap Yearly Windows VPS Deals
$60/Year/VPS Deal
2 GB RAM
60 GB Storage
1 TB Bandwidth
2 x vCPU Cores
1 x IPv4 Address
Multiple Windows Servers/OSes
RDP/Administrator Server Access
PTR/rDNS
KVM + Panel
Los Angeles, Dallas, Jacksonville and France Locations
$60/Year/VPS
Promo Code: 

CheapWindowsVPS60
$80/Year/VPS Deal
3 GB RAM
90 GB Storage
1 TB Bandwidth
2 x vCPU Cores
1 x IPv4 Address
Multiple Windows Servers/OSes
RDP/Administrator Server Access
PTR/rDNS
KVM + Panel
Los Angeles, Dallas, Jacksonville and France Locations
$80/Year/VPS
Promo Code: 

CheapWindowsVPS80
$100/Year/VPS Deal
4 GB RAM
120 GB Storage
1 TB Bandwidth
3 x vCPU Cores
1 x IPv4 Address
Multiple Windows Servers/OSes
RDP/Administrator Server Access
PTR/rDNS
KVM + Panel
Los Angeles, Dallas, Jacksonville and France Locations
$100/Year/VPS
Promo Code: 

CheapWindowsVPS100
Windows VPS Features
Full KVM Virtualization with Complete Root Access in USA & France, EU.
They are using the latest Intel Xeon processors with RAID configurations, which are highly redundant for maximum server uptime and stability.
Six Locations to choose from World Wide
They are having RAID-10 disk protection to ensures that your servers stay online without any data loss, even in the event of a total drive failure.
Your website is excessively vital, making it impossible to be disconnected. That is the reason why we offer a 100% uptime Service Level Agreement.
Downtime sucks yeah! Once your server's up with us, we keep it up. We guarantee a 99.9% uptime for server availability is our top priority.
Awesome SolusVM VPS control panel allows you to take complete dominance over your virtual server and reinstall or reboot when requires.