EUserv.com offer BackupHD 1T SE2017 – 1TB Cloud Storage for FREE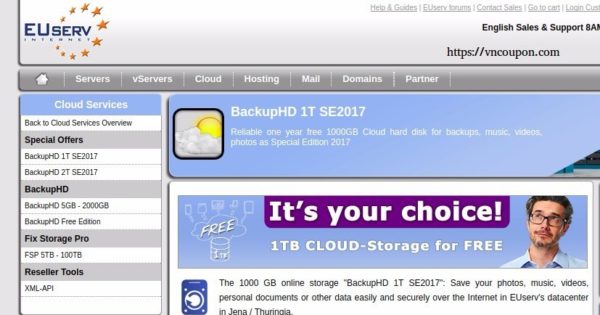 EUserv.com offer BackupHD 1T SE2017.The 1000 GB online storage "BackupHD 1T SE2017": Save your photos, music, videos, personal documents or other data easily and securely over the Internet in EUserv's datacenter in Jena / Thuringia.
Use the front-end server and various transfer protocols such as encrypted Rsync, FTP, WebDAV, or a graphical frontend you can access anytime soon on your data.
Information about contract:
The maximum contract term of this free special offer is 1 year. After one year you have to change to a paid plan or the contract is automatically deleted. There are no costs for deletion.
A maximum of one contract per customer is possible.
There is no personal support in this free offer.
The offer is only valid for new contracts.
In the event of non-use, the free contract can be canceled prematurely.
Offer is valid until 30.11.2017.
Detail Features BackupHD 1T SE2017
1000 GB Storage
Support Web-Client, FTP, FTPS/TLS, Rsync, WebDAV
10 Gbit/s Network connection
Unmetered Bandwidth
Unlimited Number of backups
Unlimited Number of files
5 TB Maximum filesize
Jena, Germany Location
99,95 % SLA
1, 3 or 12 month
Click Here to get 1 TB Cloud-Storage for Free
About EUserv
After a long preparation time the hosting – brand "EUserv"was founded in January 2005. Euserv operates as a web host of dedicated root servers, webspace and domain budget-conscious users. Meanwhile, EUserv also offers dedicated server and high availability services for professionals.
The company is one of three business areas of the ISPpro Internet KG from the technology region of Jena in Thuringia. The successful and experienced Internet Service Provider is trusted since 1998 from tens of thousands customers due to its powerful and innovative service offerings.
+ Network Information: Click Here
+ Top Storage VPS Hosting: Click Here