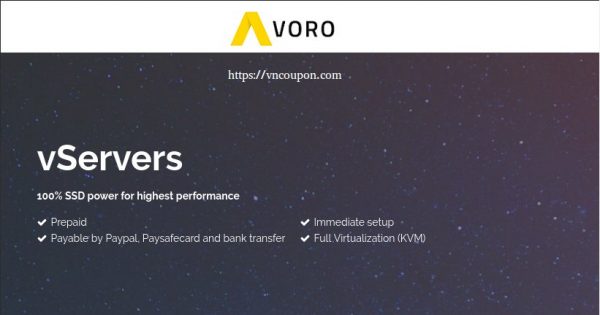 Avoro is currently having a sweet sale for people who need VPS in Germany.
About Avoro
We like to describe ourselves in three words: no contract, professional support and high quality products. All this includes us. Our goal: 100% customer satisfaction – without compromise.
We already use only fully developed and tested hardware, which is purchased exclusively from reputable manufacturers. Through our strong partnership with First Colo, we have been able to continue improving DDoS protection to provide the best protection to our customers. If you have any questions about our DDoS protection or our hardware, please do not hesitate to contact us. In the event of faults, we receive detailed information about a failure within a few seconds via our specially configured monitoring. This allows us to start directly with the troubleshooting.
vServer Offers
vServer Entry
Intel Gold / Intel E5

1 dedicated CPU core

512 MB of DDR4 ECC RAM

10 GB SSD

10 Gbps shared

1x IPv4 & 1x IPv6 network

1TB traffic

First Colo DDoS protection

Minimum term: 12 months

LIMITED OFFER

11.11 EUR annually
22,22 EUR Every 2 years
33.33 EUR every three years
More plans: https://avoro.eu/cart.php?gid=3
vServer Features
100% SSD power for highest performance
Prepaid
Immediate setup
Payable by Paypal, Paysafecard and bank transfer
Full Virtualization (KVM)
Network Information
+ Looking Glass: https://lg.harmony-solutions.de/