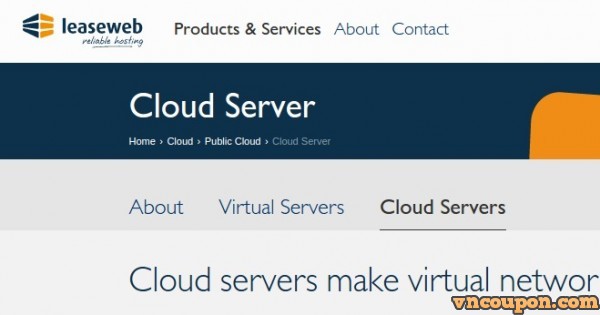 They offering 40% off all "S" and "M" size virtual server and cloud server packages.
Why choose LeaseWeb Public Cloud solutions?
LeaseWeb Public Cloud services are available in many locations around the world running on an enterprise-class virtualization platform. Designed with reliability in mind, their public cloud uses redundant components throughout. What's more, their public cloud servers come with a free firewall and full control via their customer portal and API.
KVM Offer Plans
Virtual servers offer a virtualized, cost-effective alternative to bare metal servers.
Server Pack S
1 Core vCPU
1 GB vRAM
40 GB (SAN Storage, RAID 10)

€

7

.

00 

€

4

.

20

(40% OFF)
Server Pack M
2 Core vCPU
2 GB vRAM
60 GB (SAN Storage, RAID 10)

€

16

.

00 

€

9

.

60 

(40% OFF)
Cloud VPS Offer Plans
Server Pack S
1 Core vCPU
1 GB vRAM
40 GB (SAN Storage, RAID 10)
1 Public IP, 1 Private IP
Load balancing (Optional Addon)

€

13

.

00 

€

7

.

80

 

(40% OFF)
Server Pack M
2 Core vCPU
2 GB vRAM
60 GB (SAN Storage, RAID 10)
1 Public IP, 1 Private IP
Load balancing (Optional Addon)

€

24

.

00 

€

14

.

40

 

(40% OFF)
Network Information