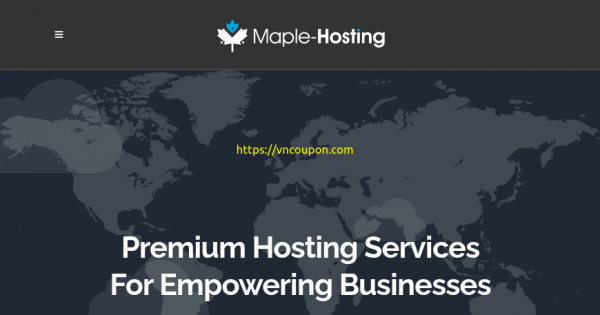 Maple-Hosting – Offering Award-Winning Dedicated Servers in The Netherlands since 2008!
About Maple-Hosting
Maple-Hosting is a privately owned hosting company that has been offering Netherlands Dedicated Servers to partners around the world since June 2008.
We focus on providing an exceptional hosting experience that allows our customers to focus on their businesses.

In today's competitive market all companies must constantly adapt and improve. Here at Maple-Hosting we love what we do and are very passionate when it comes to your hosting experience. That's why for us, making sure you get the exceptional service your business deserves is the only possible course of action.
Dedicated Server Features
Premium Network Blend of Multiple Transit Providers (Telia Carrier, Cogent, Liberty Global, NTT, Core-Backbone) and Peering Providers (PhoenixNAP, AMS-IX).
Now with Noction Intelligent Routing Platform which automatically analyzes routes with congestion or packet loss and then reroutes packets to their optimal routes.
100% Uptime Guarantee with industry-leading SLA which includes refunds for each minute of network or power downtime caused by covered reasons.
Network Looking Glass so you can perform your risk-free network tests reliably and before you even place your order.
Tier-3 Netherlands Data Center featuring Vesda fire safety systems, fully redundant cooling systems and power supplies, ISO 27001:2005 certification, and 24×7 security & monitoring.
23 Minute Avg Support Ticket Response thanks to our 24×7 Impressive-Support team which is trained to provide quick and complete resolutions.
Now with a dedicated Critical Support department for even faster resolution of any downtime issues.
Platinum Control Panel where you can complete the following actions with just a few clicks: Power Control, Operating System Reinstallations, rDNS Setup, Rescue Mode & More.
Personal Agent Like with a concierge in a hotel, with us, you get your own personal agent whose job is to make sure you're happy with all aspects of your hosting experience.
Simple & Quick Customization Tailor your server to match your exact needs with hundreds of possible configurations.
12 Hours Avg. Set Up Time We test so you don't have to. All of our Enterprise Data-Center Grade hardware undergoes testing before it is delivered to a new customer.
Fully-Managed or Unmetered Ports Available Upgrade your server to be Fully-Managed or with a True-Unmetered Port when placing your order.
Special Netherlands Dedicated Server
Xeon E3-1260L (4 Cores x 2.40 GHz)
4 GB RAM
240 GB SSD -OR- 2 TB SATA
50 TB Bandwidth with Dedicated 1 Gbps port
Free IPMI Upon Request For WebHostingTalk Members
$129 per month
Prepay 3, 6 or 12 months and save 5%, 10% or 15%, respectively
Xeon E3-1246v3 (4 Cores x 3.50 GHz)
16 GB DDR3 ECC RAM
2 x 240 GB SSD -OR- 2 x 2 TB SATA
50 TB Bandwidth with Dedicated 1 Gbps port
Free IPMI Upon Request For WebHostingTalk Members
$149 per month
Prepay 3, 6 or 12 months and save 5%, 10% or 15%, respectively
Ryzen 3700X (8 Cores x 3.60 GHz)
16 GB DDR4 RAM
2 x 240 GB SSD -OR- 2 x 2 TB SATA
100 TB Bandwidth with Dedicated 1 Gbps port
Free IPMI Upon Request For WebHostingTalk Members
$199 per month
Prepay 3, 6 or 12 months and save 5%, 10% or 15%, respectively
Dual Xeon X5650 (12 Cores x 2.66 GHz)
64 GB DDR3 ECC RAM
2 x 240 GB SSD -OR- 2 x 2 TB SATA
100 TB Bandwidth with Dedicated 1 Gbps port
Free IPMI Upon Request For WebHostingTalk Members
$219 per month
Prepay 3, 6 or 12 months and save 5%, 10% or 15%, respectively
Dual Xeon E5-2650 (16 Cores x 2.00 GHz)
64 GB DDR3 ECC RAM
2 x 240 GB SSD -OR- 2 x 2 TB SATA
100 TB Bandwidth with Dedicated 1 Gbps port
Free IPMI Upon Request For WebHostingTalk Members
$229 per month
Prepay 3, 6 or 12 months and save 5%, 10% or 15%, respectively
Ryzen 3900X (12 Cores x 3.80 GHz)
32 GB DDR3 ECC RAM
2 x 240 GB SSD -OR- 2 x 2 TB SATA
100 TB Bandwidth with Dedicated 1 Gbps port
Free IPMI Upon Request For WebHostingTalk Members
$249 per month
Prepay 3, 6 or 12 months and save 5%, 10% or 15%, respectively
Unmetered Xeon E3-1246v3 (4 Cores x 3.50 GHz)
16 GB DDR3 ECC RAM
2 x 240 GB SSD -OR- 2 x 2 TB SATA
True-Unmetered 1 Gbps
Free IPMI Upon Request For WebHostingTalk Members
$329 per month
Prepay 3, 6 or 12 months and save 5%, 10% or 15%, respectively
Unmetered Dual Xeon E5-2650 (16 Cores x 2.00 GHz)
64 GB DDR3 ECC RAM
2 x 240 GB SSD -OR- 2 x 2 TB SATA
True-Unmetered 1 Gbps
Free IPMI Upon Request For WebHostingTalk Members
$409 per month
Prepay 3, 6 or 12 months and save 5%, 10% or 15%, respectively
Payment Method
BitPay
Credit Cards
PayPal
WeChat Pay
Network Information
Netherlands
Test IP: 37.123.210.203
Looking Glass: https://lg.maple-hosting.com/