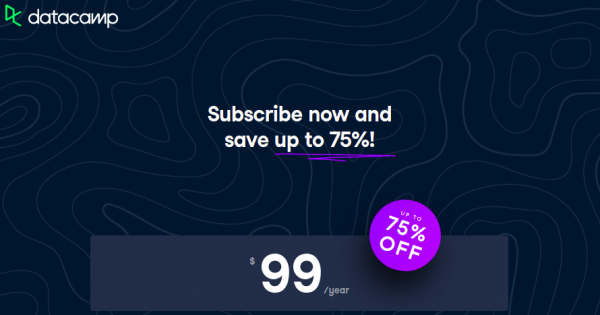 DataCamp – they will be running a promo through September 24th. Save up to 75%! Learn R, Python & Data Science Online!
Subscribe now and save up to 75%!
=> [ Promo Link ]
What is DataCamp?
Learn the data skills you need online at your own pace—from non-coding essentials to data science and machine learning.
Build data skills online:
Hands-on skill building for all levels
Short videos + interactive exercises
Write and run real code in your browser
DataCamp Plans
PREMIUM INDIVIDUAL PLAN
Normally $
$399 . Now $99
Unlimited access to our entire catalog
350+ courses, 60+ tracks, 80+ projects
Get certified and access our career services
PROFESSIONAL BUSINESS PLAN
Admin roles and permissions
Leaderboard & usage reporting
Simple user management
Assign learning content and set due dates
Live chat support for admins