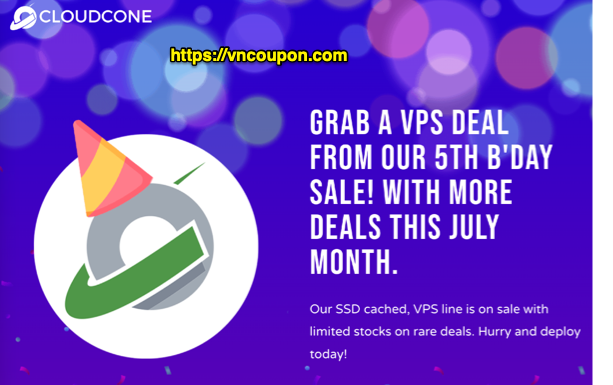 Come celebrate 5 years of hosting excellence with CloudCone this July 🎉
They are excited to announce an insane Birthday Sale + Giveaway for all our amazing clients throughout the month starting from the 1st of July.
Our Birthday Sale is LIVE and includes lifetime recurring deals on some of our products. Come quick and grab a rare birthday deal before stocks run out!
Signed up before 1st of August, 2022?
=> [ Promo Link ]
Also, here' very first Pure RAID 10 SSD VPS offer:
5th B'day – 1
1 vCPU Cores
1 GB Dedicated RAM
15 GB RAID-10 Drive
Pure SSD Storage
4 TB/Mo Bandwidth at 1 Gb/s
1x IPv4 address
3x IPv6 addresses
Instantly Deployed
Los Angeles, US
Virtualization: KVM
Category: VPS
5th B'day – 2
4 vCPU Core
2 GB Dedicated RAM
59 GB RAID-10 Drive
Pure SSD Storage
6 TB/Mo Bandwidth at 1 Gb/s
1x IPv4 address
3x IPv6 addresses
Instantly Deployed
Los Angeles, US
Virtualization: KVM
Category: VPS