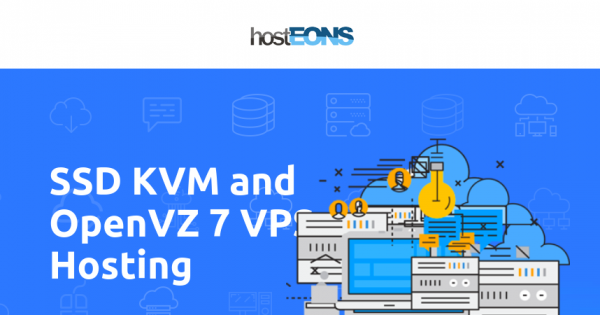 Hosteons Pte. Ltd. is based in Singapore with servers hosted in USA. They don't lease servers, they buy our own server hardware and co-locate them on various networks.
HostEONS offers affordable and stable hosting services like:
KVM VPS using Pure SSD RAID 10 Drives. (Linux/Windows/FreeBSD)
Web Hosting – (Shared Web Hosting, Unlimited Web Hosting, Reseller Web Hosting)
Dedicated Servers – (DDOS Protected Dedicated Servers, Offshore servers, Budget Servers, Instant Dedicated Servers)
Anniversary Special Coupon Codes
RECURR20 – This coupon gives recurring 20% OFF on all billing cycles except for 256MB and 512 MB OVZ and 256 MB KVM VPS (Annual billing cycle gives you additional 25% discount)

UPGRADE

: Use this coupon to get a free VPS Package upgrade e.g. if you ordered VPS 1 with 512 MB you can ask for free upgrade to Package VPS 2 with 1024 MB RAM and 10 G Disk space, same applies to all other packages, you basically get free upgrade to next higher VPS Package, once you use this coupon code and received your VPS Please submit a support ticket to get this upgrade. (This offer does not applies to Custom VPS and 256 MB RAM VPS, it can be used for any other VPS Packages and it's applicable only for new orders) This is a lifetime coupon/upgrade.

DOUBLERAM

: This coupon will give you DOUBLE RAM, after placing order using this coupon code just submit a support ticket to DOUBLE your VPS RAM)

DOUBLEDISK

: This coupon will give you DOUBLE SSD Disk Space, after placing order using this coupon code just submit a support ticket to DOUBLE your VPS Disk Space (SSD RAID 10)
DA: get free Direct Admin on VPS 2 and higher VPS Packages
Free Windows 2019 License on annual payments (Applicable on KVM VPS 3 and higher packages as it's minimum requirement to run Windows)
Free cPanel Web Hosting – They are now offering Free cPanel Web Hosting with all VPS Packages, no coupon code required, just submit a support ticket after placing order and mention domain for web hosting in it (Please note regular web hosting orders are setup automatically but this free add-on web hosting they set it up manually so it can take upto 24 hours for activation of web hosting). You will get option to add web hosting package in the order form. (This is limited period special, they may disable it at anytime). It will continue to work as long as your VPS Hosting Package is active.Even existing clients can get free cPanel web hosting, just order it from client area under Services menu –> Available Addons.
Only 1 free web hosting package is allowed per VPS
It comes with following features:
Disk Space: 5GB
Bandwidth: 50GB
Email Accounts: 10
Subdomain: 5
Mysql Database: 1
cPanel: YES
One Click Script Installer: YES
WebSiteBuilder: YES
CloudLinux:YES
Special Ryzen VPS (
NEW

)
RYZEN 1 GB
RYZEN CPU Core (3.5 Ghz+): 1 vCore (Fair Share)
RAM: 1 GB
NVME Disk Space: 15 GB
OS: Linux
IPv4: 1
IPv6: /64
BANDWIDTH: 1 TB
Port Speed: 1 Gbps
Control Panel: YES
RDNS: YES
VNC: YES
DDOS Protection: YES
Instant Activation: YES
Location: Los Angeles, Dallas
BLESTA License: FREE
$36/Year
RYZEN 2 GB
RYZEN CPU Core (3.5 Ghz+): 2 vCore (Fair Share)
RAM: 2 GB
NVME Disk Space: 30 GB
OS: Linux/Windows
IPv4: 1
IPv6: /64
BANDWIDTH: 2 TB
Port Speed: 1 Gbps
Control Panel: YES
RDNS: YES
VNC: YES
DDOS Protection: YES
Instant Activation: YES
Location: Los Angeles, Dallas
BLESTA License: FREE
Windows 2019 License: FREE on 1 yr, 2 yr and 3 yr billing cycles
$72/Year
OpenVZ Plans
OVZ256MB
vCPU: 1
RAM: 256 MB
vSWAP: 256 MB
SSD Disk Space: 5 GB
OS: Linux
IPv4: 1
IPv6: /64 (18,446,744,073,709,551,616 IPv6 addresses)
BANDWIDTH: Unmetered 100Mbps
Control Panel: YES
$12/year – (No coupon codes are applicable on this package)
OVZ512 MB
vCPU Core: 1
RAM: 512 GB
Disk Space: 10 GB SSD
Bandwidth: Unmetered
OS: Linux
IPv4: 1 (Additional IPV4 available for $1 per IP per month)
IPv6: /64
RDNS: Yes
Control Panel: Yes
$18/year – (No coupon codes are applicable on this package)
OVZ1
vCPU Core: 1
RAM: 1 GB
Disk Space: 30 GB SSD
Bandwidth: Unmetered
OS: Linux
IPv4: 1 (Additional IPV4 available for $1 per IP per month)
IPv6: /64
RDNS: Yes
Control Panel: Yes
$27/year – ( use coupon "

UPGRADE

" to get upgraded to our next VPS Package )
OVZ2
vCPU Core: 2
RAM: 2 GB
Disk Space: 50 GB SSD
Bandwidth: Unmetered
OS: Linux
IPv4: 1 (Additional IPV4 available for $1 per IP per month)
IPv6: /64
RDNS: Yes
Control Panel: Yes
$6/month ( use coupon "

UPGRADE

" to get upgraded to our next VPS Package )
=> More plans
Payment Information
They accept all popular modes of payments like:
Credit Cards (Stripe)
PayPal
AliPay
WeChat Pay
Union Pay
BitCoin
Web Money
QIWI
Yandex Money
Perfect Money
Bank Transfer
Network Information