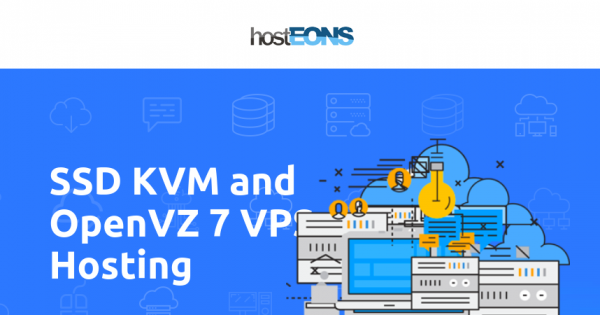 Hosteons Pte. Ltd. is based in Singapore with servers hosted in USA. They don't lease servers, they buy our own server hardware and co-locate them on various networks.
HostEONS offers affordable and stable hosting services like:
KVM VPS using Pure SSD RAID 10 Drives. (Linux/Windows/FreeBSD)
Web Hosting – (Shared Web Hosting, Unlimited Web Hosting, Reseller Web Hosting)
Dedicated Servers – (DDOS Protected Dedicated Servers, Offshore servers, Budget Servers, Instant Dedicated Servers)
Anniversary Special Coupon Codes
30% OFF Yearly payment Coupon code: 30OFF
FREE 10G Port Upgrade (worth $5 per month, not applicable on 100Mbps unmetered OVZ, also not available in Vegas, once you are migrated to Portland, then we will be able to offer it.)
Free Windows 2019 License on supported VPS – Submit a support ticket to get it.
Free Blesta License – Just submit a support ticket to get it.
All these promos are applicable on 1 year, 2 year or 3 year payments only
Special Ryzen VPS (
NEW

)
RYZEN 1 GB
RYZEN CPU Core (3.5 Ghz+): 1 vCore (Fair Share)
RAM: 1 GB
NVME Disk Space: 15 GB
OS: Linux
IPv4: 1
IPv6: /64
BANDWIDTH: 1 TB
Port Speed: 1 Gbps
Control Panel: YES
RDNS: YES
VNC: YES
DDOS Protection: YES
Instant Activation: YES
Location: Los Angeles, Dallas
BLESTA License: FREE
$36/Year
RYZEN 2 GB
RYZEN CPU Core (3.5 Ghz+): 2 vCore (Fair Share)
RAM: 2 GB
NVME Disk Space: 30 GB
OS: Linux/Windows
IPv4: 1
IPv6: /64
BANDWIDTH: 2 TB
Port Speed: 1 Gbps
Control Panel: YES
RDNS: YES
VNC: YES
DDOS Protection: YES
Instant Activation: YES
Location: Los Angeles, Dallas
BLESTA License: FREE
Windows 2019 License: FREE on 1 yr, 2 yr and 3 yr billing cycles
$72/Year
OpenVZ Plans
OVZ256MB
vCPU: 1
RAM: 256 MB
vSWAP: 256 MB
SSD Disk Space: 5 GB
OS: Linux
IPv4: 1
IPv6: /64 (18,446,744,073,709,551,616 IPv6 addresses)
BANDWIDTH: Unmetered 100Mbps
Control Panel: YES
$16/year – (No coupon codes are applicable on this package)
OVZ512 MB
vCPU Core: 1
RAM: 512 GB
Disk Space: 10 GB SSD
Bandwidth: Unmetered
OS: Linux
IPv4: 1 (Additional IPV4 available for $1 per IP per month)
IPv6: /64
RDNS: Yes
Control Panel: Yes
$18/year – (No coupon codes are applicable on this package)
OVZ1
vCPU Core: 1
RAM: 1 GB
Disk Space: 30 GB SSD
Bandwidth: Unmetered
OS: Linux
IPv4: 1 (Additional IPV4 available for $1 per IP per month)
IPv6: /64
RDNS: Yes
Control Panel: Yes
$27/year
OVZ2
vCPU Core: 2
RAM: 2 GB
Disk Space: 50 GB SSD
Bandwidth: Unmetered
OS: Linux
IPv4: 1 (Additional IPV4 available for $1 per IP per month)
IPv6: /64
RDNS: Yes
Control Panel: Yes
$6/month
=> More plans
Ryzen VDS/Hybrid Dedi (
NEW

)

Dedicated 1 vCore (Ryzen 7950x 4.5 Ghz)
4 GB RAM
25 GB NVME – 50 GB NVME
15 TB Transfer
10 Gbps (Shared Port)
1 IPv4
/64 IPv6
Linux and Windows Supported
Custom ISO Support
VPS Control Panel
Backup Optional – Monthly Backup
RDNS
Location: Salt Lake city
Just $7/mo
VDS with dedicated CPU vCores
Dedicated 2 vCore
8 GB RAM
50 GB NVME
30 TB Transfer
10 Gbps (Shared Port)
1 IPv4
/64 IPv6
Linux and Windows Supported
Custom ISO Support
Backup Optional – Monthly Backup
RDNS
Location: Salt Lake city
Just $8.99/mo
Payment Information
They accept all popular modes of payments like:
Credit Cards (Stripe)
PayPal
AliPay
WeChat Pay
Union Pay
BitCoin
Web Money
QIWI
Yandex Money
Perfect Money
Bank Transfer
Network Information