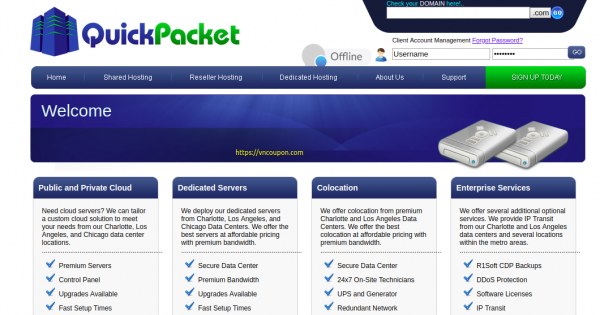 On QuickPacket's 16th anniversary of their founding on June 15, 2003, they are pleased to offer the following special Dedicated Server:
16th Anniversary Special – Intel Core i3 530
Dual Core 2.93GHz with HyperThreading (4 threads!)
8GB RAM
Drive options: two 3TB Hard Drives [or] one 128GB SSD and one 3TB Hard Drive [or] two 128GB SSDs
5 IP addresses on Private VLAN with Reverse DNS
/64 IPv6 Addresses available upon request (more available with justification)
Dedicated KVM over IP / IPMI
20TB Bandwidth on 1Gbps Port
Self Managed
Located in Los Angeles, CA
$29.99 per month
QuickPacket also offers a number of software licenses as add-ons:
cPanel – VPS $11/month – Server $35/month
KernelCare – $2/month
CloudLinux – $9/month with cPanel, $11/month without
Softaculous – VPS $1/month – Server $2/month
WHMCS – Branded $12.80/month – Unbranded $14.80/month
DirectAdmin – VPS $5/month – Server $9/month
They accept PayPal, VISA, Mastercard, American Express, Discover, Alipay (through Stripe) and Bitcoin (through BitPay) payments.
About QuickPacket
Since their founding in June 2003, QuickPacket™ has provided quality services to thier customers at reasonable prices. QuickPacket, LLC was formed in October 2004 in the State of South Carolina and converted to the State of North Carolina in February 2012.
Network Information
Los Angeles, CA