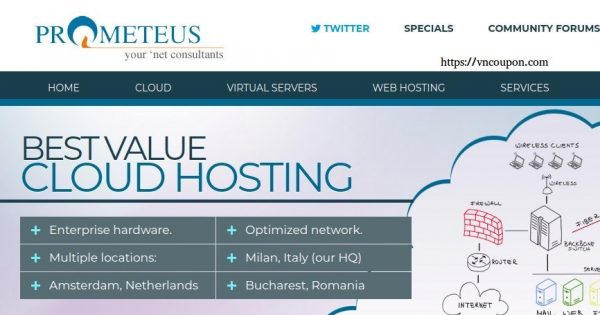 This month Prometeus celebrate 21 years of business and as usual it's time for some discounts 😀
First a small update about their services.
Network upgrades
In the last months we have increased network capacity at every location. If you are a client with an active VPS and need more traffic please open a ticket and we will add for free 1000GB monthly to your current plan 🙂
For iwStack users traffic included monthly with every instance will increase from 1TB to 4TB starting from this month, enjoy!
New SAN deploy in Milan for iwStack
We have just installed a new SSD backed SAN in Milano and will move existing BASIC KVM instances from the old SAN to the new one in the next couple of weeks.
Expect soon a IOPS boost for BASIC instances running in Milano!
DDOS Mitigation
We have partnered with Serverius to offer DDOS mitigation for attacks up to 1Tbps. We also deployed 10G layer 2 links to connect privately our POPs in Italy and The Netherland. This way we can carry incoming "clean" traffic from the scrubbing center without any need to adjust MTU as usually is required over GRE tunnels.
At present we are doing only custom mitigation projects (please ask of you have some specific requirement), however we plan to deliver soon some standard service (floating DDOS protected IP and/or vps).
Prometeus 21th anniversary promotions
1. SpamExpert Antispam domain with 75% discount!
Thanks to our partnership with SpamExpert they have a limited number of domains that we can sell with a massive 75% discount! Also if you need outgoing antispam filtering we can enable it for free (just file a ticket after your account is active). Please use this coupon code on ANTISPAM75OFF, => Order Here
2. 21% discount on everything: services, VPS, iwStack account and iwCredits!
Just use the coupon code 21FOR21 on checkout!
All coupons expire at the end of the month.