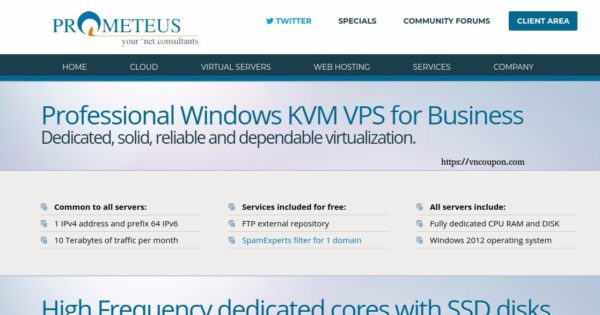 Prometeus are pleased to announce the immediate availability of the new Professional Windows VPS.
Professional Windows VPS run on KVM hypervisors with performant (> 3 Ghz) CPUs, local SSD raid 10 arrays, come with dedicated resources and Microsoft Windows 2012 installed and ready to run, just point your RDP client to the assigned IP and you're set.
For a limited time and stock they are providing an amazing discount recurring for life:
40% off for monthly or quarterly payments
50% off for yearly payments
=> Order here!
3 flavors of Professional Windows VPS are available at this time:
All VPS have 10TB of monthly traffic included, 1 dedicated IPv4, one /64 IPv6
Location: Italy (other locations should follow in the next months)
Windows VPS Plans
WIN-SSD1-IT
1 vCPU
2GB RAM
50GB SSD disk
€15/month
€7.5/mo with code W50YEAR
WIN-SSD2-IT
2 vCPU
4GB RAM
100GB SSD disk
€25/month
€12.5/mo with code W50YEAR
WIN-SSD3-IT
4 vCPU
8GB RAM
200GB SSD disk
€50/month
€25/mo with code W50YEAR
Don't miss this amazing limited promotion.
Professional Windows VPS allow you to run your Windows applications and service with full control. The VPS is ideal also as a powerful desktop active 24×7, available from anywhere using any RDP client. KVM is a hypervisor running on CPU with hardware virtualization extension, providing services that allow multiple computer operating systems to execute on the same hardware concurrently.