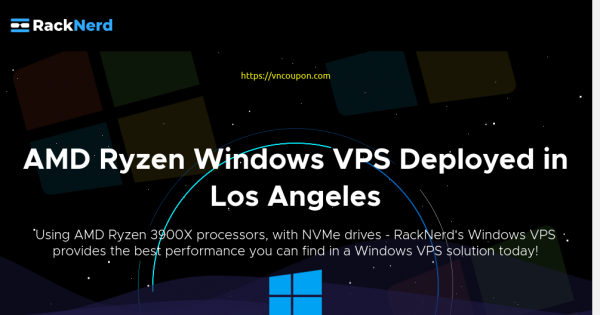 RackNerd sent email to us about their latest windows vps deals! They offer 30% OFF AMD Ryzen Windows VPS with NVMe SSD from $10.21/month with coupon: WIN-30OFF
I know I recently reached out to you and discussed some things possibly in the making, such as Windows NVMe VPS. Based on the feedback we've received, we decided to test and provision NVMe Windows VPS, utilizing enterprise Intel NVMe SSD's as well as AMD Ryzen 9 3900X processors. These are fast, incredibly fast, and if you've ever been in the market, or curious to explore what a Windows VPS looks like, be sure to check out our new product line: Windows VPS.

When building out our Windows VPS platform, we wanted to deliver an experience that is light years ahead. That means we didn't cut any corners when building out our infrastructure, we rigorously tested and designed our Windows VPS IaaS offering exclusively with AMD Ryzen 3900X processors, featuring DDR4 RAM and enterprise-grade Intel NVMe drives. The performance of each Windows VPS is stunning.

Performance was a heavy emphasis when designing our new Windows VPS platform. When it comes to Windows VPS, we understand that consumers simply want an experience that is rapid, responsive, and highly available. As an illustrative example – in a soft-launch we ran, we've even had some users tell us that their Ryzen-powered Windows VPS with us with just 1 core outperforms their Windows VPS with another host that had 4 Intel Xeon Cores! This is thanks to our platform leveraging the unmatched performance of AMD Ryzen and Enterprise Intel NVMe SSD drives.

For your convenience we've integrated the promo code into the order links below, and listed both regular price and the promotional price that's available to you. Your renewal rate will still stay the same at the promotional price – check these out now and let me know what you think!
WINDOWS VPS DEALS
2GB – AMD Ryzen Windows VPS with NVMe SSD
4GB – AMD Ryzen Windows VPS with NVMe SSD
6GB – AMD Ryzen Windows VPS with NVMe SSD
8GB – AMD Ryzen Windows VPS with NVMe SSD
12GB – AMD Ryzen Windows VPS with NVMe SSD
16GB – AMD Ryzen Windows VPS with NVMe SSD
About RackNerd
RackNerd introduces infrastructure stability and provides Dedicated Servers, Private Cloud solutions, DRaaS (Disaster-Recovery-as-a-Service), flexible Colocation, Virtual Private Servers and advanced DDoS Mitigation services — maintained by a team with decades of experience in managed services, datacenter operations, and Infrastructure-as-a-Service. With an intrinsic focus on client success and growth, RackNerd has grown steadily while continuing to provide high-quality hosting services at competitive rates.