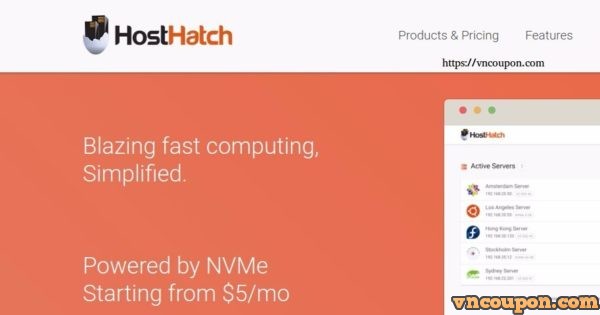 HostHatch – Let's now move onto the new KVM servers. New servers on some of the fastest PCIe SSDs on the planet, and then multiplied their speed and reliability by putting them into RAID-10. NVMe SSDs + dedicated CPU + 2x the RAM while keeping a similar pricing structure.
You can migrate to the new plans if you already have a SSD KVM VPS with us. Just send them a ticket, and they will start the process. It will cause a few minutes of downtime (depending on your disk size) for the migration.
NVMe Based VPS
The standard cloud VM. Powered by the world's fastest NVMe SSDs. Dedicated CPU. Run any OS.
For any larger NVMe plans, you get 50% more RAM, if paying at least quarterly.
To order, please login to manage.hosthatch.com, deposit the appropriate amount of funds by going to the billing page.
Celebrating 8 years in business
As promised, some good deals are here. HostHatch was founded on 11th April, 2011 and today marks the 8th year in existence. These are special deals that will be available for one week.
We won't be extending these and the orders will close on 18th April.
Chicago storage
Note:
They can do this plan on monthly billing if at least 5 TB storage is bought.
Servers can be upgraded with chunks after the promotion period at the same pricing, as long as the server was ordered within the promotional period.
Sorry for making it a bit confusing, could not figure out a way to make the structure easier.
To order:
To order, please sign up/login at manage.hosthatch.com and deposit the appropriate amount of funds. Then open a ticket with sales mentioning the promotion/location you want. All servers will be created by us manually with the following provisioning times and renewal dates will be updated accordingly:
Chicago: 29th April
Amsterdam/Stockholm: 19th April
NY/LA/Oslo/Vienna: 24 hours
NVMe Offers Plans
NVMe 0.5 GB
NVMe 1 GB
NVMe 2 GB
Storage KVM Offers Plans
KVM Storage 2000
KVM Storage 1500
KVM Storage 750
KVM storage 250
Three of the new features are:
+ Private networking. Available on all KVM servers (Storage VPS and NVMe VPS). 10 Gbps connections with jumbo frames enabled for the best performance.
+ Custom/User ISO. Run virtually any OS on your KVM server by uploading your own ISO and mounting it to your server, just like on bare-metal.
+ 2-factor authentication. Simply scan your QR code using your preferred two-factor application
Note:
* You must open a ticket within 24 hours after the service being ordered to get the RAM upgrade. It is not possible to be added later. The RAM will remain for the lifetime of service. The RAM upgrade is not transferable between services.
* A full CPU core is assigned to all plans. CPU is throttled to the dedicated limit if we see consistent high usage.
* A free Comodo PositiveSSL per IP address
* Voxility DDoS protection can be ordered for $3 per IP address