ExtraVM – NVMe KVM VPS from $3/month – DDoS Protection – 35% Discount on Miami, Florida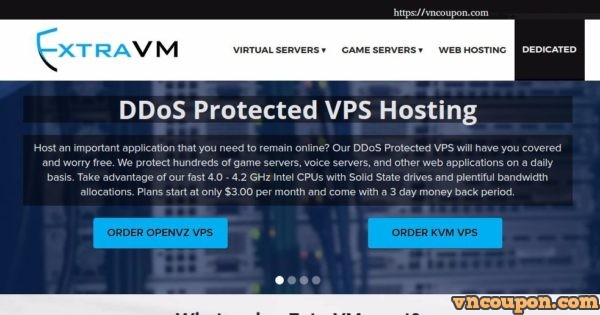 ExtraVM now has NVMe SSD VPS in Montreal location. They have VPS in Canada, France, USA, and Singapore. All servers come with DDoS protection. Two new things to note, new Dallas VPS plans on Ryzen and a 50% off first month code.
ExtraVM Promo Codes
Use code "LET10" for 10% off every month.
Use promo 

25SWITCH

for 25% off first month.
35lesmiami – 35% discount on Miami, Florida VPS
Miami, Florida NVMe VPS Offers (

NEW

)
Haring a temporary discount (ends on the 25th) for VNCoupon users who might be interested in Miami servers for better latency to South America.
=> Order Link
Miami location uses ReliableSite network. Test IP 103.195.101.96. Support for protecting VPNs, tunnels, proxies against DDoS is not provided. Commercial/shared VPNs is not allowed. Setup on orders is usually instant but sometimes can take a few hours.
Dallas, TX NVMe VPS KVM Offers 
Dallas VPS are in stock again on Ryzen 3900X & 3950X NVMe servers. Pricing recently reduced to $5/GB.
=> Order Link
KVM VPS Offers
Node specifications
Canada / France KVM Spec:
– E3-1270v6
– 64GB DDR4 ECC
– 2x 1.2TB NVMe SSD (SW RAID-1)
– 1Gbps
Singapore KVM Spec:
– i7-6700K
– 32GB DDR4
– 2x 480GB DC SSD (SW RAID-1)
– 1Gbps
512MB KVM NVMe
1GB KVM NVMe
2GB KVM NVMe
512MB Singapore KVM VPS
1GB Singapore RAM KVM VPS
=> More packages: Click Here
OpenVZ Plans w/ SSD, i7 CPU Offers
512MB OpenVZ (w/ Game Firewall)
1GB OpenVZ (w/ Game Firewall)
Ryzen SSD VPS (Dallas, TX):
512MB RAM / 1 vCPU @ 3.2GHz (Ryzen 2700) / 7GB SSD / 500GB @ 1Gbps – $3.50/m
1GB RAM / 1 vCPU @ 3.2GHz (Ryzen 2700) / 15GB SSD / 1TB @ 1Gbps – $6.00/m
2GB RAM / 2 vCPU @ 3.2GHz (Ryzen 2700) / 30GB SSD / 2TB @ 1Gbps – $12.00/m
Order VPS in Dallas
Payment Methods:
– PayPal (Debit/Credit)
– Stripe (Debit/Credit)
– BitPay (Bitcoin)
– PaymentWall (PaysafeCard, PagSeguro, and 100+ Local Gateways/Currencies)
ExtraVM offer a 3 day money back period, no questions asked. Some local payments via PaymentWall method are not able to be refunded, however Bitcoin, Stripe and PayPal can be refunded. They only offer 1 refund per account, in most cases accounts are closed after a single-service refund is processed.
Network Information
OVH Beauharnois
+ Test IPv4: 192.99.75.195
+ Test IPv6: 2607:5300:203:10b4::e86c:2f1e
+ Test file: https://bhs.lg.extravm.com/100MB.test
+ Looking glass: https://bhs.lg.extravm.com
OVH – Gravelines, France
+ Test IPv4: 178.33.9.17
+ Test IPv6: 2001:41d0:303:4845::d696:e1a8
+ Test file: https://gra.lg.extravm.com/100MB.test
+ Looking glass: https://gra.lg.extravm.com
OVH – Singapore
+ Test IPv4: 139.99.7.19
+ Test IPv6: 2402:1f00:8000:393::f1c5:4e8d
+ Test file: https://sgp.lg.extravm.com/100MB.test
+ Looking glass: https://sgp.lg.extravm.com