ExtraVM – NVMe KVM VPS from $3/month – DDoS Protection – Singapore Location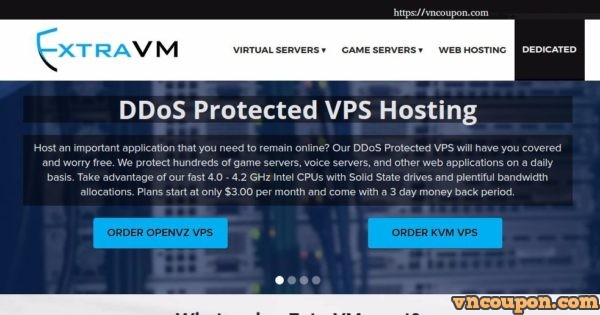 ExtraVM now has NVMe SSD VPS in Montreal location. They have VPS in Canada, France, USA, and Singapore. All servers come with DDoS protection. for a limited time you can use the promotion code "40NVME" to get 40% off recurring on any KVM NVMe plan in Montreal, CA.
KVM VPS Offers
Node specifications
Canada / France KVM Spec:
– E3-1270v6
– 64GB DDR4 ECC
– 2x 1.2TB NVMe SSD (SW RAID-1)
– 1Gbps
Singapore KVM Spec:
– i7-6700K
– 32GB DDR4
– 2x 480GB DC SSD (SW RAID-1)
– 1Gbps
512MB KVM NVMe
512MB RAM
1x vCPU
7GB NVMe SSD
1TB Transfer
500Mbps Uplink
1x IPv4, IPv6
KVM/SolusVM
Coupon: LEBTRY (30% off first month)
$3.00/month OR $32.76/yr
Order here (Canada, France)
1024MB KVM NVMe
1GB DDR4 ECC RAM
1 CPU Core (3.8GHz, E3-1270v6)
15GB NVMe SSD Space
2TB Bandwidth
500Mbps Port
1 IPv4, 1 IPv6
Complete DDoS Mitigation
$6/month
Order Here (Canada, France)
1GB RAM KVM VPS
1GB RAM
1x vCPU
14GB NVMe SSD
200GB Transfer
250Mbps Uplink
1x IPv4, IPv6
KVM/SolusVM
Coupon: LEBTRYSGP (15% off recurring)
$7.65/mo
Order here (Singapore)
=> More packages: Click Here
Payment Methods:
– PayPal (Debit/Credit)
– Stripe (Debit/Credit)
– BitPay (Bitcoin)
– PaymentWall (PaysafeCard, PagSeguro, and 100+ Local Gateways/Currencies)
ExtraVM offer a 3 day money back period, no questions asked. Some local payments via PaymentWall method are not able to be refunded, however Bitcoin, Stripe and PayPal can be refunded. They only offer 1 refund per account, in most cases accounts are closed after a single-service refund is processed.
Network Information
OVH Beauharnois
+ Test IPv4: 192.99.75.195
+ Test IPv6: 2607:5300:203:10b4::e86c:2f1e
+ Test file: https://bhs.lg.extravm.com/100MB.test
+ Looking glass: https://bhs.lg.extravm.com
OVH – Gravelines, France
+ Test IPv4: 178.33.9.17
+ Test IPv6: 2001:41d0:303:4845::d696:e1a8
+ Test file: https://gra.lg.extravm.com/100MB.test
+ Looking glass: https://gra.lg.extravm.com
OVH – Singapore
+ Test IPv4: 139.99.7.19
+ Test IPv6: 2402:1f00:8000:393::f1c5:4e8d
+ Test file: https://sgp.lg.extravm.com/100MB.test
+ Looking glass: https://sgp.lg.extravm.com