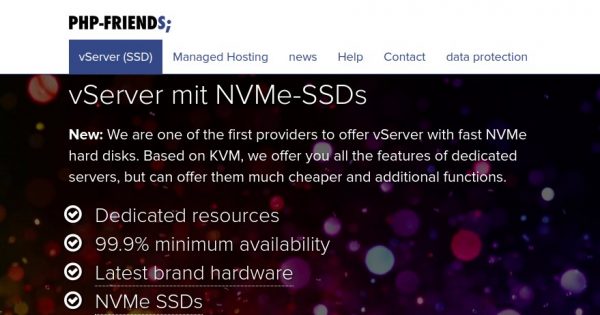 PHP-Friends offer vServer Schnupperspecial 2019 SSD G2. This promotional product is only available for a few days and in small quantities. Being fast is worth it!
About PHP-Friends
We have been providing IT services since 2009 and have years of hosting experience. Our company continues to evolve, resulting in consistent growth. While web development, system administration and enterprise hosting were our initial business in the early years, our portfolio was eventually supplemented with web hosting and vServer. Our offers have become attractive for private customers as well and can be paid free of charge via various payment methods.
This offers:
CPU: Intel Xeon E5-2630 v3 / v4
Dedicated cores: 2 (including Nested Virtualization)
RAM: 6 GB RAM (DDR4 ECC Reg.)
Storage: 65 GB SSD storage (RAID-10)
DDoS protection ( learn more about DDoS protection )
Network: 1 GBit / s connection
IPv4 addresses: 1 (rDNS free changeable)
IPv6: 64 subnet
Traffic: free
4,00 € (including VAT) per month
vServer features
vServer with fast NVMe hard disks. Based on KVM, we offer you all the features of dedicated servers, but can offer them much cheaper and additional functions.
Dedicated resources
99.9% minimum availability
Latest brand hardware
NVMe SSDs
KVM full virtualization
DDoS Protection