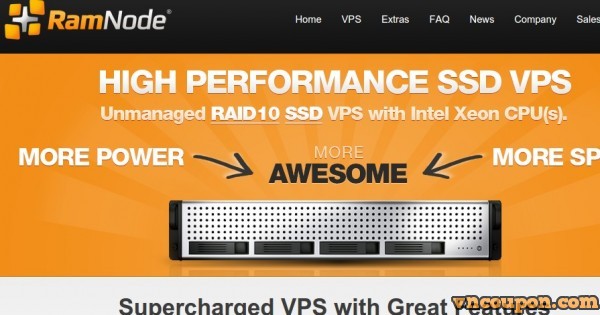 Black Friday 2015 RamNode High Performance VPS
From RamNode Twitter
Black Friday is here! 25% OFF for LIFE on any new VPS or upgrade! Limited time offer!
Coupon (Limited Offers):

About Ramnode
RamNode is one of the #1 top provider at LowEndBox and LowEndTalk. Black Friday 2015, they giving away 25% off for life on any new order in 5 locations: New York, Atlanta, Seattle, Los Angeles, and The Netherlands.
The benchmark of SVZ VPS 128MB RAM in Seattle
[[email protected] ~]$ wget freevps.us/downloads/bench.sh -O – -o /dev/null|bash
CPU model : Intel(R) Xeon(R) CPU E3-1241 v3 @ 3.50GHz
Number of cores : 1
CPU frequency : 3499.963 MHz
Total amount of ram : 128 MB
Total amount of swap : 64 MB
System uptime : 111 days, 24 min,
Download speed from CacheFly: 41.3MB/s
Download speed from Coloat, Atlanta GA: 26.2MB/s
Download speed from Softlayer, Dallas, TX: 49.8MB/s
Download speed from Linode, Tokyo, JP: 8.89MB/s
Download speed from i3d.net, Rotterdam, NL: 4.21MB/s
Download speed from Leaseweb, Haarlem, NL: 17.2MB/s
Download speed from Softlayer, Singapore: 17.0MB/s
Download speed from Softlayer, Seattle, WA: 89.8MB/s
Download speed from Softlayer, San Jose, CA: 67.6MB/s
Download speed from Softlayer, Washington, DC: 4.95MB/s
I/O speed : 847 MB/s
Payment Information
RamNode accepts payments via PayPal, Credit Card and Bitcoin
Network Information
Telehouse Chelsea – New York City, New York
Looking glass: http://lg.nyc.ramnode.com/
55 Marietta – Atlanta, Georgia
Looking glass: http://lg.atl.ramnode.com/
The Westin – Seattle, Washington
Looking glass: http://lg.sea.ramnode.com/
Equinix – Los Angeles, California
Looking glass: http://lg.la.ramnode.com/
Dataplace – Alblasserdam, The Netherlands
Looking glass: http://lg.nl.ramnode.com/