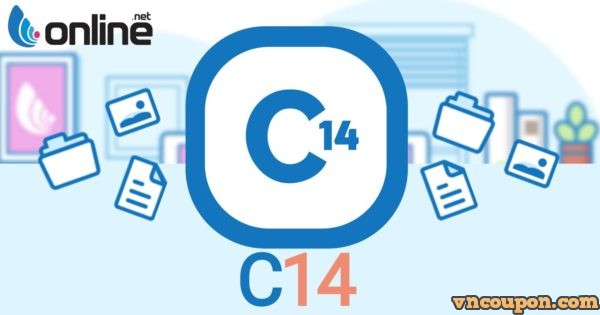 C14 is a unique service of cloud long-term storage designed from scratch to provide very high security, made by the electronics team of Online Labs.
Online.net C14 Features
C14 is designed to store huge volume of data for long term, like digital archiving, digital long term preservation, logs storage, pictures, videos, backups, disaster recovery plan…
C14 offers the lowest TCO of market. You pay only on usage based, on storage volume, with minimum volume of 1GB only. There are no hidden fees, no bandwidth or transfer fees, only your storage volume and archive / unarchive operations are billed on usage basis.
Support FTP, SFTP, Rsync or SCP, then with our API or with 1 click in your customer panel archive it in C14.
C14 support in standard unlimited number of safe-deposit box. Each safe-deposit box can store 4 billions of files and 40TB.
C14 Plans
Durability
Cost of storage
Cost of operations
Upload
Download
Standard
€

0.002

per GB / month

€

0.010

per GB

Free

Free

Entreprise
€

0.003

per GB / month

€

0.020

per GB

Free

Free
Try it now: https://www.online.net/en/c14