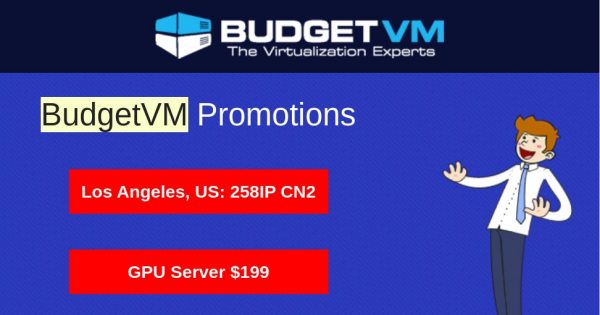 On August, BudgetVM sent their promotions to us: Dedicated Server Promotions from $44/month.
Los Angeles, US Dedicated Server Promotions
All Servers Include: IPMI, 1800 Gbps DDoS Protection, 1Gbps Transfer
E3-1230 | 16GB | 1TB HDD | CN2 | 255IP | Sale Price: $148.88 => Order Now
E3-1270 | 32GB | 2TB HDD | CN2 | 255IP | Sale Price: $158.88 => Order Now
GPU Tesla M40 24GB | E5-2643 | 16GB | 500GB SSD | CN2 | Sale Price: $199.88 => Order Now
All Locations Dedicated Server Promotions
*50% OFF* FOR THE FIRST MONTH ON ANY SERVER LISTED BELOW WHILE SUPPLIES LAST!
BudgetVM is a leading provider of hosting and virtualization solution. We provide our customers with an advanced tools to deploy, manage and maintin thier products and services. This coupled with our strategic relationships allows to provide the most reliable solution at the best value.