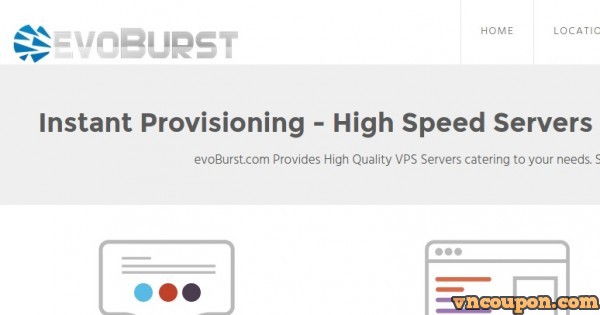 Email from EvoBurst Solutions to offers our High Performance VPS
With the Huge expansion of EvoBurst Solutions we have put out a new line of VPS Products suitable for everybody! Currently available in THREE geographically diverse locations (Seattle, Los Angeles and Dronten, NL) Utilizing High Speed SAS and Pure SSD Drives, 128GB+ of Ram and high end Dual Intel CPU's!
Using Resource Bundles leaves YOU in control of what specifications you need in any of our locations with the ability to split your Bundle over the three locations if needed while keeping a low price for all customers, Bundles with EvoBurst.com start from just 4 Euro (~4.50USD) for 2GB Ram, 15GB SSD/SAS, 2 Dedicated IPv4 Addresses and 2TB PREMIUM Bandwidth!
All EvoBurst Servers Features
Access to ALL Cores on the Host Node, in Shared Core arrangements.
Unlimited, Automated Reinstalls
/64 IPv6 Per VPS Server Spawned.
Coupon:
BUNNYEARS
20% off coupon (reccuring for a period of THREE Months) only EvoBurst 2G ->8G Plans
EvoBurst VPS Plans
EvoBurst2G
24+ Cores (Fair Share)
2GB Dedicated RAM
15GB Storage (SSD or SAS – Location Dependant)
2 dedicated IPv4 + /64 IPv6 Subnet
2TB Premium Bandwidth
Change location ANYTIME & Create multiple VPS Servers from your allocated resources!
Locations: Seattle, Washington – Los Angeles, California – Dronten, The Netherlands
Order Here this plan
All VPS Plans Here
Network Information
http://www.evoburst.com/locations.html