Introducing SimpleNode's Storage VPS Range – 400GB RAID50 Disk $7/month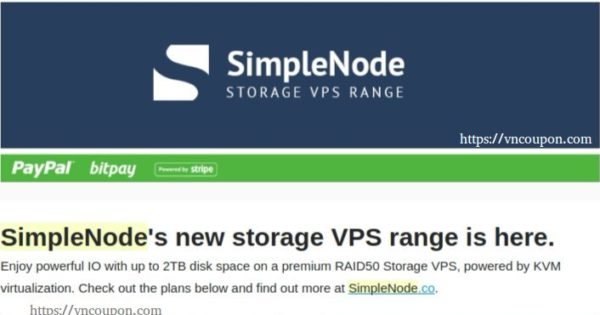 SimpleNode

's new storage VPS range is here. Enjoy powerful IO with up to 2TB disk space on a premium RAID50 Storage VPS, powered by KVM virtualization.
If you're needing high-availability, high-performance disk space for backups or general use, SimpleNode's storage servers are an ideal solution. Located on our flagship storage node, Neon, you'll experience the benefits of full KVM virtualization and fast, redundant RAID50 storage.
SimpleNode offers high performance hosting at affordable prices: They are dedicated to customers and have provided highly personalized support since 2012. SimpleNode's servers are never oversold and boast Incero's premium network, located in their Dallas, TX flagship facility. We accept PayPal, Stripe (Credit Card) and BitPay (for Bitcoin)
Storage VPS Offers
Host Node
+ 2x Xeon E5-2620
+ 192GB RAM
+ Gigabit Port
+ 8x 10TB Drives in Hardware RAID 50
Storage VPS LET Launch Deal
2x CPU
400GB RAID50 Disk
1GB RAM
2TB Bandwidth
KVM Virtualization
1x IPv4 + 4x IPv6 (more on request)
$7/month
$18/qtr
Storage Standard VPS (KVM)
1TB RAID 50 HDD Space
2GB RAM
4 vCPU Cores
3TB Bandwidth (Shared Gigabit port)
KVM Virtualization
1 IPv4 + 4 IPv6 Addresses
Located in Dallas, TX
$16/month with coupon: STORAGE1TB
Storage Plus VPS (KVM)
2TB RAID 50 HDD Space
4GB RAM
4 vCPU Cores
6TB Bandwidth (Shared Gigabit port)
KVM Virtualization
1 IPv4 + 4 IPv6 Addresses
Located in Dallas, TX
$24/month with coupon:

STORAGE2TB
Special OpenVZ &  KVM VPS: Click Here
Network Information
Incero – Dallas, TX, USA
+ Test IPv4: 192.211.52.66
+ Test IPv6: 2604:880:2:3::7de7:56a3
Term of Services
– IRC allowed for legitimate uses
– VPNs for private use only, contact us if you intend for non-private use.
– No Tor exit nodes or Adult content. Legal torrents are fine, however we will limit your disk I/O if you are abusing it.
– Mail is allowed only for transactional mail. Any other type of mailing is prohibited – contact us first if you wish to send large volumes of mail