Namesilo Promotions And Coupon Codes for May 2019 – Register your new .COM domains for $6.99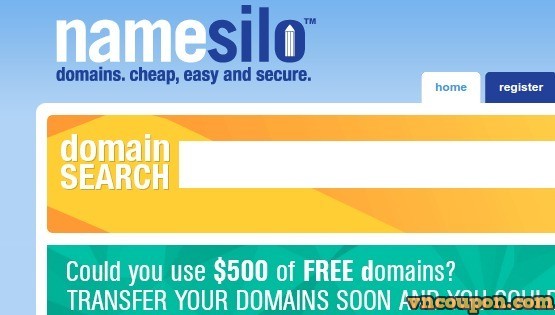 Namesilo make coupons, promotions and discounts available from time-to-time. No limits and or coupon. Register your domain
Coupon Code Terms
+ Most promotions and coupons do not apply to premium domains/TLDs.
+ Registration promotions likely result in higher renewal prices than the registration price
+ Most prices shown are retail prices and may not include further discounts per our Discount Program.
Coupon Code List
$1 discount for any new registrations or transfers. (Only 1 used)
Domain Promotions
Back by popular demand, They have bringing back our .COM promo! Register your new .COM domains for $6.99 (reg price $8.99) until June 30th. As always, you'll enjoy free WHOIS privacy, domain parking defender and more with your domain.
=> Promo Link

They are currently running the following promotions:
| TLD(S) | DATES | ORDER TYPES | PRICE | DETAILS |
| --- | --- | --- | --- | --- |
| .icu | November 22, 2018 9:30AM EST – November 26, 2018 12:00am EST | registration | $0.99 | First-year registration only |
| .io | November 22, 2018 9:30AM EST – while supplies last | registration | $32.88 | First-year registration only |
| .io | November 22, 2018 9:30AM EST – while supplies last | renewal | $34.65 | |
| .io | November 22, 2018 9:30AM EST – while supplies last | transfer | $31.99 | |
| .top | October 20, 2018 9:30PM EST – Dec. 31, 2018 12:00pm EST | registration | $1.49 | First-year registration only |
| .xyz | November 22, 2018 – November 26, 2018 | registration | $1.89 | First-year registration only |
| .top | March 6, 2017 – December 31, 2018 | registration | $2.19 | First-year registration only |
| .info | Sept. 6, 2018 – Dec. 31, 2018 | registration | $2.99 | First-year registration only |
| .pro | January 1, 2017 – December 31, 2018 | registration | $3.99 | First-year registration only |
| .me | January 1, 2018 – December 31, 2018 | registration | $6.99 | First-year registration only |
| .ws | August 24, 2017 – Ongoing | registration | $5.99 | First-year registration only |
| .cloud | March 1, 2017 – December 31, 2018 | registration | $6.29 | Price available for all registrations, even multi-year |
| .green, .lgbt, .organic, | March 1, 2017 – December 31, 2018 | registration | $11.79 | This promotion offers great savings for first-year registrations of the listed TLDs. |
| .archi, .bio, .black, .ski | March 1, 2017 – September 1, 2018 | registration | $11.79 | This promotion offers great savings for first-year registrations of the listed TLDs. |
| .blue, .kim, .mobi, .pet, pink, .promo, .red | March 1, 2017 – Septmeber 1, 2018 | registration | $4.29 | This promotion offers great savings for first-year registrations of the listed TLDs. |
| .online | July 1, 2018 – December 31, 2018 | registration | $3.39 | First-year registration only |
| .online | July 1, 2018 – December 31, 2018 | renewal | $16.99 | Renewal pricing only |
| .site | July 1, 2018 – December 31, 2018 | registration | $2.19 | First-year registration only |
| .site | July 1, 2018 – December 31, 2018 | renewal | $15.79 | Renewal pricing only |
| .tech | July 1, 2018 – December 31, 2018 | registration | $8.99 | First-year registration only |
| .tech | July 1, 2018 – December 31, 2018 | renewal | $24.79 | Renewal pricing only |
| .store | July 1, 2018 – December 31, 2018 | registration | $8.39 | First-year registration only |
| .store | July 1, 2018 – December 31, 2018 | renewal | $43.99 | Renewal pricing only |
| .website | July 1, 2018 – December 31, 2018 | registration | $2.19 | First-year registration only |
| .website | July 1, 2018 – December 31, 2018 | renewal | $14.99 | Renewal pricing only |
| .fun | July 1, 2018 – December 31, 2018 | registration | $2.19 | First-year registration only |