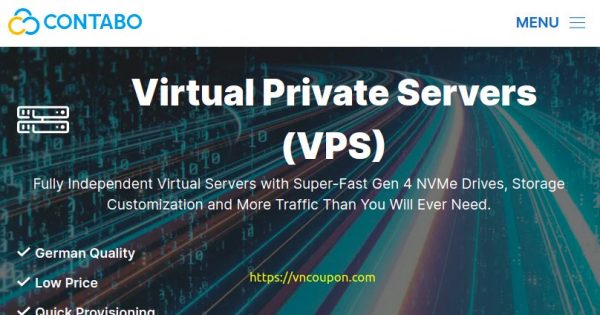 Contabo happy to announce a major upgrade to High-Performance VPS series from $6.99/month. From now on, all newly purchased VPS will be equipped with powerful Gen 4 NVMe drives, offering 10x the speed  at the same price point.
=> [ Order Link ]
High Performance VPS Plans
Fully Independent Virtual Servers with Super-Fast Gen 4 NVMe Drives, Storage Customization and More Traffic Than You Will Ever Need.
VPS S
$6.99/ month
Now with Fast NVMe
4 vCPU Cores
8 GB RAM
50 GB NVMe
or 200 GB SSD
1 Snapshot
32 TB Traffic
Unlimited Incoming
VPS M
$11.99 / month
Now with Fast NVMe
6 vCPU Cores
16 GB RAM
100 GB NVMe
or 400 GB SSD
2 Snapshots
32 TB Traffic
Unlimited Incoming
VPS L
$19.99 / month
Now with Fast NVMe
8 vCPU Cores
30 GB RAM
200 GB NVMe
or 800 GB SSD
3 Snapshots
32 TB Traffic
Unlimited Incoming
VPS XL
$34.99 / month
Now with Fast NVMe
10 vCPU Cores
60 GB RAM
400 GB NVMe
or 1.6 TB SSD
4 Snapshots
32 TB Traffic
Unlimited Incoming
VPS features
No Extra Fees For Traffic
DDoS Protection Included
1 IPv4 & /64 IPv6 Network Included
Snapshot Technology Included
VNC Access Included
OS Reinstall and Reboot Through Web Interface
DNS Management Through Web Interface
One-click Upgrades Through Web Interface
Uptime Monitoring Available
Domains and SSL Certificates Available
Additional IPs Available
Additional Backup Space Available
Network Information
5 Regions, 8 Locations, Global Availability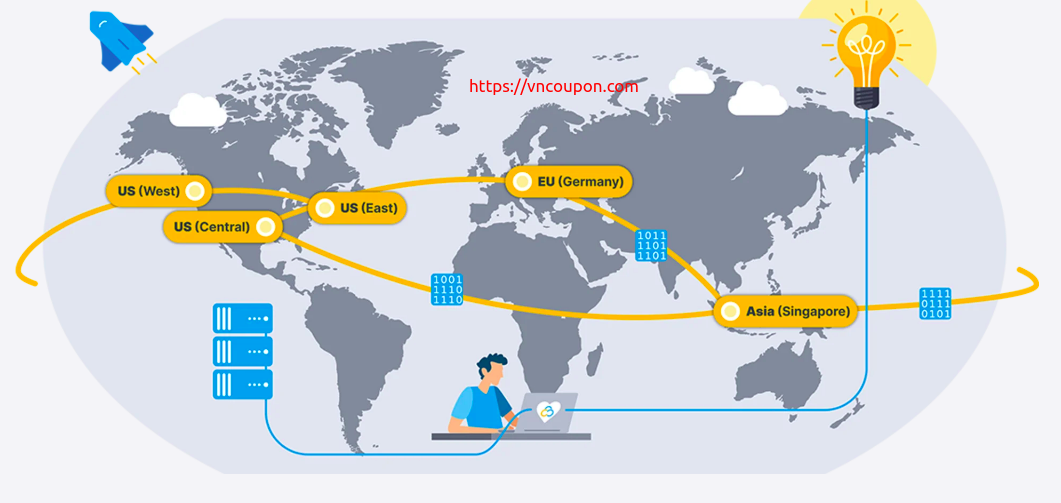 Benchmark
Basic System Information:

Processor : AMD EPYC 7282 16-Core Processor
CPU cores : 6 @ 2794.748 MHz
AES-NI : ✔ Enabled
VM-x/AMD-V : ❌ Disabled
RAM : 15.6 GiB
Swap : 2.0 GiB
Disk : 97.9 GiB

fio Disk Speed Tests (Mixed R/W 50/50):

| Block Size | 4k (IOPS) | 64k (IOPS) |
| --- | --- | --- |
| Read | 23.31 MB/s (5.8k) | 331.48 MB/s (5.1k) |
| Write | 23.31 MB/s (5.8k) | 333.22 MB/s (5.2k) |
| Total | 46.62 MB/s (11.6k) | 664.70 MB/s (10.3k) |
| | | |
| Block Size | 512k (IOPS) | 1m (IOPS) |
| —— | — —- | —- —- |
| Read | 3.60 GB/s (7.0k) | 8.45 GB/s (8.2k) |
| Write | 3.80 GB/s (7.4k) | 9.01 GB/s (8.8k) |
| Total | 7.41 GB/s (14.4k) | 17.47 GB/s (17.0k) |

iperf3 Network Speed Tests (IPv4)

Provider | Location (Link) | Send Speed | Recv Speed
| | |
Clouvider | London, UK (10G) | 370 Mbits/sec | 384 Mbits/sec
Online.net | Paris, FR (10G) | 368 Mbits/sec | 384 Mbits/sec
WorldStream | The Netherlands (10G) | 362 Mbits/sec | 383 Mbits/sec
Biznet | Jakarta, Indonesia (1G) | 281 Mbits/sec | 96.5 Mbits/sec
Clouvider | NYC, NY, US (10G) | 381 Mbits/sec | 396 Mbits/sec
Velocity Online | Tallahassee, FL, US (10G) | 372 Mbits/sec | 392 Mbits/sec
Clouvider | Los Angeles, CA, US (10G) | 367 Mbits/sec | 384 Mbits/sec
Iveloz Telecom | Sao Paulo, BR (2G) | 356 Mbits/sec | 368 Mbits/sec