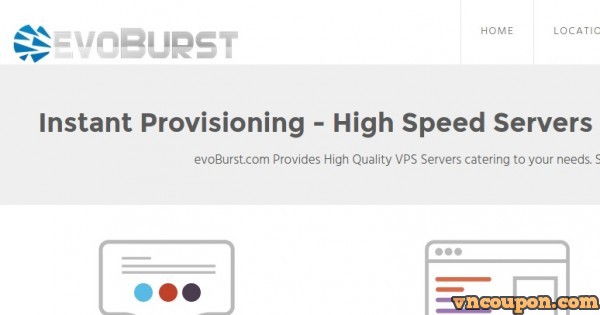 They sent email to me.
Well, Lets start by saying Thankyou for been a Valued Customer of evoBurst Solutions and supporting us.
We have had a few up's and downs But during this time we have made some wonderful Accomplishments. We have been in business for nearly 6 months now. With over 1500 customers, and over 2500 operational VPS Servers, and it's time for something Different.

We are opening up a more Premium Service, This will be titled under our Company Name "EvoBurst" We are using High End Hardware, Including Dual E5's and High End "X" Series Intel CPU's, Packed Full of Ram (128GB+) as well as Either High End Crucial SSD's or High End SAS Drives.

EvoBurst uses Resource Bundles, so you can create multiple VPS Servers within your Plan's Limitations, This makes it more Scalable to your Personal needs. With VPS Servers ranging from 1GB Ram to 8GB Ram. With the ability to be able to pick and choose the Location of each VPS Server and what specifications you need there.

This service offers more Reliablility and speed then our Current NanoVZ/MegaVZ & BudgetVZ Offerings.
This is offer from their with High End Servers
——————————
As well as Their 1 VPS Limit Bundle
1 CPU Core
512MB RAM
10GB SSD or SAS (Location Dependant)
1TB Bandwidth @ 1Gbit
1 Dedicated IPv4
/64 IPv6 Subnet
1 VPS Limit – Not Upgradable – One Per Customer
All this for just €2 Per Month! or €20 Per Year! With just 50 Available for Purchase, this is a Extremely Limited Offer
———————————————
As well as Their 2 VPS Limit Bundle
1 CPU Core
1GB RAM
15GB SSD or SAS (Location Dependant)
2TB Bandwidth @ 1Gbit
2 Dedicated IPv4
/64 IPv6 Subnet
2 VPS Limit
Just €4 Per month! 
Network Information
Seattle, Washington
IPv4: 107.155.106.130
IPv6: 2604:880:8:2::2
Dronten, The Netherlands
IPv4: 5.178.64.172
IPv6: 2a00:1ca8:26::4
Los Angeles, California
IPv4: 107.181.152.152
IPv6: 2602:ffda:da:2:216:3eff:fe25:a00c