Secure Dragon LLC – VPS starting at $9.99/year – 9 US Locations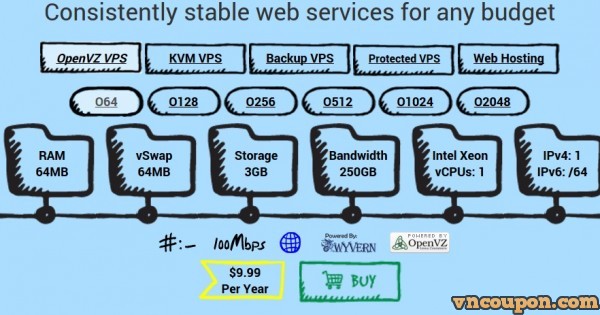 Secure Dragon LLC. is the next generation of secure off-site Backup Servers, Virtual Private Servers, DDOS Protection, and Web Hosting! We strive to provide our clients with the highest security, availability, and support possible!
Secure Dragon LLC. was formed in October of 2010 in Largo, Florida by a small team who each contain specialized skill sets, knowledge, and experience to bring to the table. We've built this company on a strong platform by taking the enterprise level servers, placing them in highly redundant fortresses, raising the drawbridge, and we even have a dragon standing guard.
We are located in 9 locations within the United States which include the following:
Tampa, FL (E Solutions)
Denver, CO (Handy Networks)
Los Angeles, CA (COLO@)
Chicago, IL (COLO@)
Weehawken, NJ (COLO@)
Atlanta, GA (COLO@)
Phoenix, AZ (COLO@)
Dallas, TX (QuadraNet)
Portland, OR (CNServers – DDOS Protected Services Only)
Budget OpenVZ Plans (available in all locations except Portland):
64MB RAM / 64MB vSwap / 3GB RAID10 Storage / 250GB Bandwidth / 1 CPU Core – $9.99/Year
128MB RAM / 128MB vSwap / 10GB RAID10 Storage / 500GB Bandwidth / 1 CPU Core – $2.49/Month OR $14.99/Year
256MB RAM / 256MB vSwap / 15GB RAID10 Storage / 500GB Bandwidth / 1 CPU Core – $2.99/Month OR $24.99/Year
512MB RAM / 512MB vSwap / 20GB RAID10 Storage / 500GB Bandwidth / 1 CPU Core – $4.99/Month OR $39.99/Year
1024MB RAM / 1024MB vSwap / 25GB RAID10 Storage / 750GB Bandwidth / 2 CPU Core – $6.99/Month OR $69.99/Year
2048MB RAM / 2048MB vSwap / 30GB RAID10 Storage / 1000GB Bandwidth / 2 CPU Core – $9.99/Month OR $99.99/Year
Order Here: https://securedragon.net/