Inception Hosting – UK Pure NVMe SSD – 10x faster than standard disks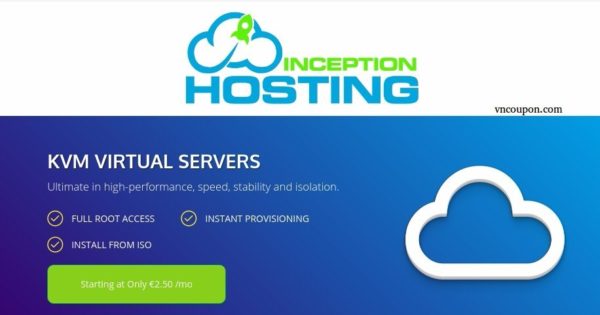 Get Discounts & Save BIG!
Everything from one time run stock clearances, ongoing special offers and earlybird specials (pre-orders) will be listed here, check back regularly for savings!

After the crazy Black Friday Sales, the inbox has been slammed with requests for more stock for the NVMe SSD VPS packages.

These units are obviously very expensive compared to standard servers mainly due to the performance being as much as 10x of standard disk-based servers so if there is enough commitment up front it removes the risk of the significant purchases ahead of schedule and everyone wins.

Because of the volume of requests for pre-order a page has been put up and the early bird products have been created and as a bonus, the Black Friday discount will be offered which is around 60% off in most cases.

Please take a look at the pre-order offers if they sell out at the same rate as the Black Friday weekend then you could have your server as soon as the 7th December.

Starting at just €25.00 per year for a 2GB Ram package surely it is worth taking a look.

If this campaign is successful you can expect to see more of the same in the future, if this hits the spot for you then please share the link on your social media, the quicker it sells the quicker you get your server!
UK Pure NVMe SSD Offers (Pre-Order)
UK-SSD-KVM-2048-Pre-Order
UK-SSD-KVM-3072-Pre-Order
UK-SSD-KVM-4096-Pre-Order
Gold Hosting
This is a pre order to lock in the best possible pricing, there is no guaranteed delivery time scales however if the pre order fails to reach its target within 90 days of launch you will be refunded in full.