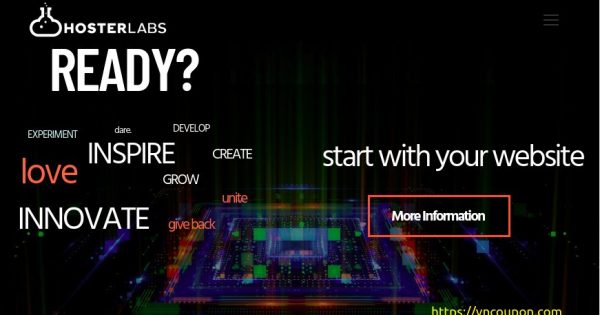 Now, the real stuff and  offerings! All offerings are KVM Based. They run on Solusvm and SolusIO
Note: Windows Servers are not licensed by US, they work on a BYL (bring your license) base. You can find them pretty cheap on the market for windows 2012-2016…
So the promo code: 420 applies a 42% discount on:
This promotional code is limited to 42 uses. Afterwards they will update the thread with a new promo code.
=> [ Order Here ]
Note: Hosterlabs Exits VPS Business.
"We will not longer be providing virtual servers and support thereof. Please contact us at [email protected] to help with refund requests."
Hosterlabs Services
Premium Shared Hosting (Does not apply to Basic NVMe)
Premium Canadian VPS Linux (KVM)
Budget Canadian VPS (KVM)
…
VPS Promos
NVMe Special Germany
Starting from $2.50/month
vCPU 1
Ram 1 GB
Disk 12 GB NVMe RAID 1
IPv4 and /80 IPv6 Block
KVM Virtualization
Unmetered Bandwidth*
Promotional Pricing
Order Link
Low End +
Starting from $2.33/month
IPv4 1
RAM 1.5GB
Space 10GB NVMe
CPU 1 vCPU
Speed 1Gbps @200GB Month
KVM Virtualized
Order Link
Specials for those Crypto Holders
Pay crypto and get 69% Off on any of the mentioned services with the code: Tothemoon
Note: This only applies for the first 3 billing cycles, no free SSL's or Domains or complements.