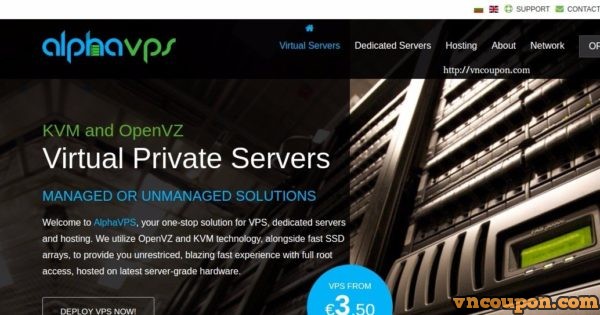 AlphaVPS is a part of DA International Group Ltd. and has been operational since 2013, serving both local and international customers around the world. The company is registered within Bulgaria, EU.
Their range of services include, but are not limited to web hosting, reseller hosting, specific application hosting (wordpress, joomla, node.js, etc.), OpenVZ and KVM based VPS, Dedicated servers, DDoS protection, R1Soft licenses, R1Soft managed backups, System administration and much more. All their OpenVZ services are utilizing only blazing fast, full SSD arrays, while our KVM services are using big HDD arrays to accomodate the needs of their customers.
Founded in 2013, from people with strong knowledge and experience in the web hosting and IT-related services
Registered company within the EU, with number 202826767, under the name DA International Group Ltd.
Inhouse support team, based in our office in Troyan, Bulgaria
24/7/365 Support with prompt and straight answers, without any filler responses
Live chat sales and support, during EU business hours. Phone support available as well.
Very affordable and competitive pricing
Only top-grade server hardware used
Rock solid stability and performance
Unbelievably good network
Superb uptime
72 hour, no questions asked, refund policy on VPS offerings (Unless resources were abused or a server suspend occured)
Completely transparent on power, network, infrastructure or node issues and great communication during planned or un-planned downtimes.
Operating own network AS203380
IPv6 ready network with IPv6 assigned by default (Excluding LA)
Choice of many locations Bulgaria, Germany, United Kingdom, and USA (NY and LA)
All offerings are exclusive of VAT (if applicable) and are in EUR. The current exchange rate is:1EUR = 1,12 USD
=> [Exclusive Deals] Enterprise Premium VPS based on high-clock AMD EPYC CPUs from €3.99/month in Sofia, Bulgaria.
Special VPS 2021 Offers
OpenVZ 7 – based specials out of BG, DE, UK, NY and LA
OpenVZ offers are specifically designed and are stackable / in terms of the resources. This means that you can upgrade in the same increments, starting from the 4G plan
KVM – based specials out of BG, DE and UK
Storage KVM Offers
Storage KVM plans are specifically designed as high storage products, based on huge RAID-60/RAID-10 arrays.
RAID60 KVM Storage in Sofia, Bulgaria
Special High RAM OpenVZ Offers
OpenVZ High Ram VPS / BG, DE, UK, NY, LA / 4G
4GB Dedicated RAM
30GB SSD
1TB Bandwith
4 Shared CPU Cores
1gbps Port
1 IPv4 IP
/64 of IPv6
UK or BG or DE or NY or LA
5EUR per month, recurring
50EUR per year, recurring
Limited special for dedicated server in Bulgaria
SUPER LIMITED QUANTITY (NEW)
[BG] Dual Intel Xeon E5-2650v2 – 128GB – 2x480GB
CPU: Dual Intel Xeon E5-2650v2
RAM: 128GB DDR3 ECC
Storage: 2x 480GB SSD (/w HW RAID)
Bandwidth: 50TB*
Port: 1Gbit/s
IPv4: /30 (1 usable)
IPv6: /64
74.99EUR/m
ORDER NOW!
Network Information
All promos and review of AlphaVPS => Click Here