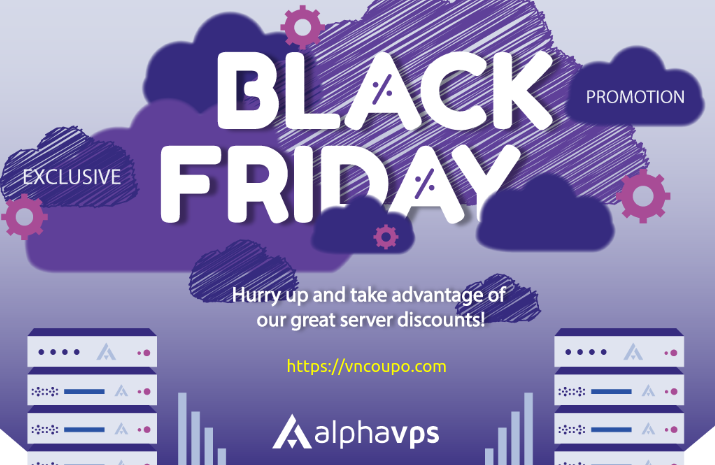 Welcome to AlphaVPS' BlackFriday 2022 Mega Thread! We're here to post some exciting deals for the community, hopefully helping everyone save a $ or two in these tough times!
AlphaVPS is a leading IaaS provider in Europe, offering Premium Cloud VPS, Dedicated Servers, Colocation, Storage VPS, Connectivity, and custom solutions out of 5 worldwide locations. Operating since 2013 and based out of Europe. Our offices are located in Sofia, Bulgaria.
Cheap VPS BF-2022 Deals
These are based on Dual E5 host nodes with RAID10 pure SSD storage, on OpenVZ 7. A perfect starting point! They come with 1x IPv4 and /64 IPv6. Available in 4 locations – Los Angeles, New York, London, and Sofia.
Note: These are older generation E5v0 and E5v2, not benchmark kings, but super stable machines for general-purpose use.
Production-ready AMD EPYC VPS in Germany and Bulgaria
AMD EPYC Cloud KVMs are a perfect fit if you're looking for powerful KVM VPS on server-grade hardware, with amazing stability, on our carrier-grade Juniper network, backed by our phenomenal support!
EPYC-4G
1 vCPU core (AMD EPYC 3.0Ghz+)
4GB DDR4 ECC RAM
25GB NVMe Storage
2TB of Bandwidth
42.51€/y —> Just 3.54€ per month for 4GB of RAM on AMD EPYC 7002/7003
EPYC-8G
2 vCPU cores (AMD EPYC)
8GB DDR4 ECC RAM
45GB NVMe Storage
4TB of Bandwidth
68.07€/y —> Just 5.67€ per month for 8GB of RAM on AMD EPYC 7002/7003
*Discount visible on SECOND step, valid for annual purchase only.
Amazing Ryzen KVMs with wicked-fast NVMe
These KVMs are based on Ryzen 5000 and 3000 series and have wicked-fast NVMe storage. Available in Los Angeles.
Powerful Dedicated Servers in Europe
Servers come with the following:
1Gbit/s port
Private VLAN
Control panel for automatic reinstalls and server network graphs
Power controls (shutdown, boot, and reboot) within the control panel
IPMI Access by request, behind a firewall (Except L5630 servers)
/30 of IPv4 and /64 of IPv6
Setup between 1 hour and up to 5 days, depending on load.
specials available for very quick deployment in Sofia, Bulgaria.
KVM Storage Servers in Germany and Bulgaria.
RAID60 HDD KVMs, perfect for NextCloud and storing your backups!
512G
512GB Disk Space
2x Intel E5 vCPU
1GB ECC RAM
1.5TB Bandwidth
35€/y —> Just 3.91€ per month for 512GB dedicated storage
1TB
1TB Disk Space
2x Intel E5 vCPU
2GB ECC RAM
3TB Bandwidth
50€/y —> Just 4.16€ per month for 1TB dedicated storage
Cheap KVM VPS BF-2022 Deals
These are based on Dual E5 host nodes, with RAID10 pure SSD storage, on KVM. All come with 1x IPv4 and /64 IPv6. Available in London and Sofia
Network Information