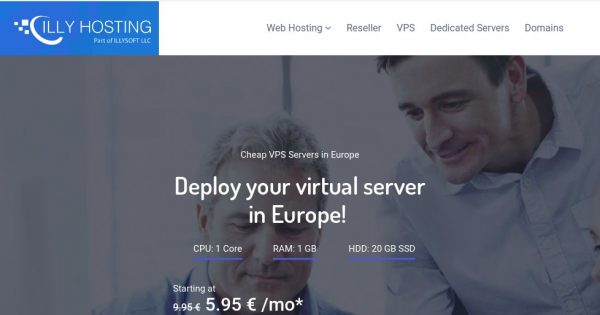 IllyHosting is the biggest hosting provider in Albania with 11 years of experience. They provide .AL domains and Albania VPS Servers. They have decided to give big discount for new users in our VPS 1 plan.
Please use coupon code: LET1FOR1M (valid until 30 March), to get VPS 1 for only 1€ in first month.
REGULAR PRICE of 5.95 after the 1st MONTH
Please use coupon code: LETMAY – LIFETIME DEAL (valid until 21 May), to get 10% discount on VPS Plans & Dedicated Server (Xeon E5-2430L).
Note: Please search review before place an order
About Company
-IllyHosting (ILLYSOFT LLC) is a registered company located in Kosovo (Reg No. #811279795).
-We are a vps, dedicated servers and colocation provider, our servers are located in our own data center in Prishtina, Kosovo and are fully owned by us.
-We offer a premium support and we are ready to assist you anytime in our live chat.
Their offers
VPS 1:
RAM: 1 GB
CPU (Cores): 1
Disk: 20 GB SSD
Bandwidth: 5000 GB
IPv4: 1
IPv6: /64
Virtualization: KVM
Price: 3.55 €/mo (3.95 €/mo)
VPS 2:
RAM: 2 GB
CPU (Cores): 1
Disk: 25 GB SSD
Bandwidth: 5000 GB
IPv4: 1
IPv6: /64
Virtualization: KVM
Price: 5.35 €/mo (5.95 €/mo)
Dedicated Server (Xeon E5-2430L):
Brand: HP
CPU: 2 x 6-Core x 2.00 GHz
RAM: 8 GB DDR3 ECC
HDD: 300 GB SAS
Bandwidth: 10 TB
IPv4: 1
IPv6: /64
Price: 62.95 €/mo (69.95 €/mo)
Payment methods: PayPal, Credit Card, Bank Transfer
Network Information
-Looking Glass: https://lg.illyhosting.com/
-Test ip: 194.5.235.3
-Test file: https://speedtest.illyhosting.com/1GB.bin