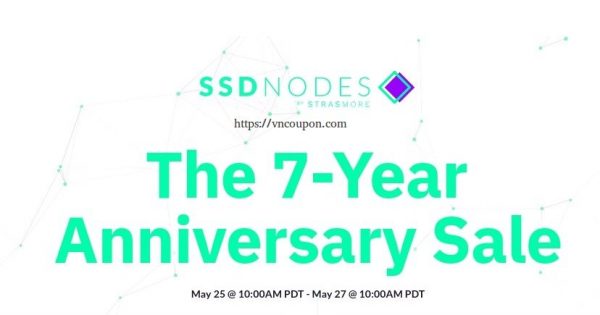 The SSD Nodes 7-Year Anniversary Sale is here!
72 hours of unbeatable prices on top of best-in-class hardware and infrastructure. May 25 @ 10:00AM PDT – May 27 @ 10:00AM PDT
$2,592in savings with a new three-year plan and our most-popular 16GB RAM VPS.
91%discount available only during this limited-time sale. Ends after 72 hours!
Sale Plans
KVM / SMALL
$15 /month
$3.99 /month ( Save $396! )
2GB RAM
10GB SSD
1 vCPU
1TB transfer
KVM / LARGE
$40/month
$6.99/month ( Save $1,188! )
8GB RAM
40GB SSD
1 vCPU
4TB transfer
KVM / X-LARGE
$80/month
$7.99/month ( Save $2,592! )
16GB RAM
80GB SSD
4 vCPU
8TB transfer
KVM / 2X-LARGE
$160/month
$14.99/month ( Save $5,220! )
32GB RAM
160GB SSD
4 vCPU
16TB transfer
About SSD Node: Click Here