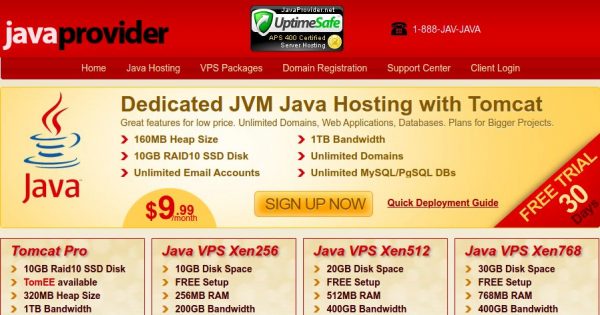 JavaProvider.net offers budget friendly Java Hosting since 2008. Today, they offer 50% recurring discount coupon for Tomcat and Tomcat Pro packages ordered in November 2021: WHT50P14 (new clients only)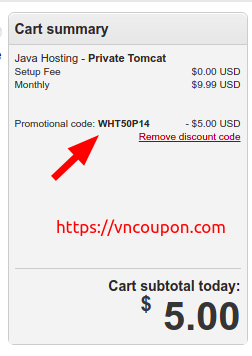 For these of you who need more heap memory (320MB+) they offer VPS packages with SolusVM control panel. Each VPS comes with basic OS or any set of open source software preinstalled. Dedciated servers are available too.
Private JVM Java Hosting Package:
NEW! API for Java Control Panel
Pure SSD hosting
Dedicated JVM – no JVM sharing
Monthly/Weekly Backup Service
Multiple WAR applications and multiple domains
Ant and Maven
Apache Tomcat any version (other application servers possible)
SSH access
JDK any version
Java Control Panel to restart Tomcat, change Tomcat/JDK version, monitor memory usage etc.
Servlets, JSP, JSF, Spring, Hibernate, JSTL, Struts, Grails, EJB 3.0 and more
Upgrade Heap size anytime. Example: $5/month for 256MB. 30% discount for 512MB addon
Databases: MYSQL 5.7 PostgreSQL 12, MongoDB, CouchDB
CVS/Subversion (SVN)/GIT/Mercurial repository
PHP 7, Python 3, Perl, Ruby
Free JavaProvider.net subdomain/alias
All typical cPanel features
Java Hosting Plans
Private Tomcat
Disk Space (SSD): 10GB
Heap Size: 160MB
Metaspace Size: 160MB
Traffic: 500GB
Monthly: $9.99
Private Tomcat Pro
All Private Tomcat features
HeapSize: 320MB
Metaspace Size: 320MB
Monthly: $19.99
Recommended for Grails, Cyclos and other complex frameworks or webapps
Datacenter
Their servers are located in U.S and Germany.
They use colo4dallas. They are plugged into 100Mbit port. They own their servers and manage them. KVM is used to manage these servers. If any hardware related problems occur their datacenter will provide remote hands.
The German-based data center They use, located in Frankfurt am Main, provides a reliable, fast and affordable colocation. Very similar to the U.S colocation, just that it is located in Germany. If you are customer from UK, Europe They will put your account there.