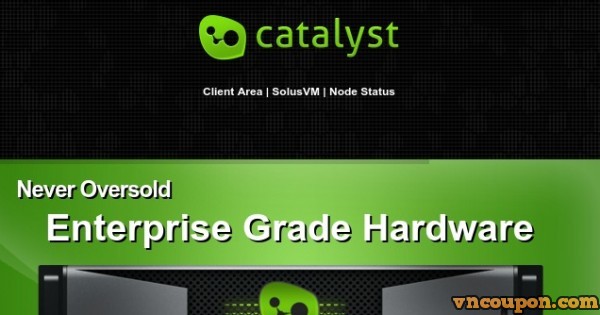 Catalyst Host is the product of a group of close friends. They also in #10 providers in LET forums.
They also guarantee that your website will load quickly when there is nothing in your design or code that circumvents our efforts. They will also gladly work with you to optimize your site for faster load times. They guarantee that you will be able to use the resources you pay for.
99% Uptime
Fast loading websites
Not oversold
They offers some Dallas VPS exclusive plans.
LEB Mini
LEB Micro
– 128MB RAM
– 64MB Swap
– 1x vCPU
– 10GB HDD space
– 10TB transfer
– 2 Gbps uplink
– 1x IPv4
– /64 IPv6
– OpenVZ/SolusVM
– $12/Year
– Order Now
– 256MB RAM
– 128MB Swap
– 1x vCPU
– 15GB HDD space
– 10TB transfer
– 2 Gbps uplink
– 1x IPv4
– /64 IPv6
– OpenVZ/SolusVM
– $24/Year
– Order Now
–
LEB Demi
LEB 1GB
– 512MB RAM
– 256MB Swap
– 1x vCPU
– 20GB HDD space
– 10TB transfer
– 2 Gbps uplink
– 1x IPv4
– /64 IPv6
– OpenVZ/SolusVM
– $36/year
– Order Now
 – 1GB RAM
– 256MB Swap
– 1x vCPU
– 30GB HDD space
– 10TB transfer
– 2 Gbps uplink
– 1x IPv4
– /64 IPv6
– OpenVZ/SolusVM
– $4/month
– Order Now
–
LEB 3GB
LEB 4GB
– 3GB RAM
– 512MB Swap
– 2x vCPU
– 50GB HDD space
– 10TB transfer
– 2 Gbps uplink
– 1x IPv4
– /64 IPv6
– OpenVZ/SolusVM
– $7/month
– Order Now
– 4GB RAM
– 1024MB Swap
– 4x vCPU
– 100GB HDD space
– 10TB transfer (Double Bandwidth Included)
– 2 Gbps uplink
– 1x IPv4
– /64 IPv6
– OpenVZ/SolusVM
– $10/Month
– Order Now