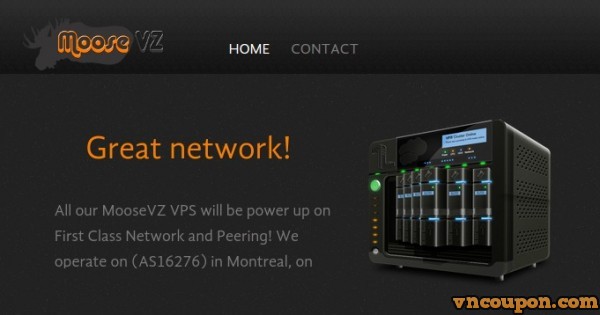 MooseVZ is a new brand of DeepNet Solutions Division. They have datacenter in 4 locations: Los Angles, Montreal, Miami and Dallas Tx (coming soon)
All our MooseVZ VPS will be power up on First Class Network and Peering!
With MooseVZ, you will benefit of a low cost but powered by DeepNet Solutions support staff and infrastructure.
New Coupon
10% off on all their MooseVZ VPS
VPS Plans
BAMBI
1/2 CPU core
128MB RAM
5GB HDD
100GB Bandwidth
1 Dedicated IPv4
IPv6 subnet
OpenVZ Technology
$5.50 /year
DEER
1 CPU core
256MB RAM
10GB HDD
250GB Bandwidth
1 Dedicated IPv4
IPv6 subnet
OpenVZ Technology
$7.50 /year
CARIBOU
1 CPU core
512MB RAM
20GB HDD
500GB Bandwidth
1 Dedicated IPv4
IPv6 subnet
OpenVZ Technology
$11.50 /year
MOOSE
2 CPU core
1GB RAM
45 HDD
750GB Bandwidth
1 Dedicated IPv4
IPv6 subnet
OpenVZ Technology
$16.50 /year
Network Information
Montreal: http://dns-mtl.gdbi.info/
Los Angeles: http://dns-lax02.gdbi.info/
Miami: http://dns-mia01.gdbi.info/
Dallas (Soon): http://dns-dal01.gdbi.info/