[Flash Sale] Hostodo Limited Time NVMe KVM VPS from $34.99/year – Free DirectAdmin – Las Vegas & Miami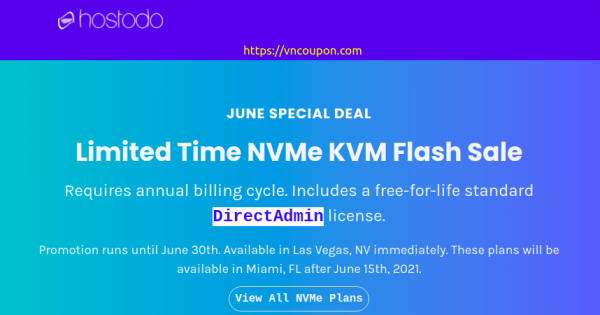 Hostodo offers easy to deploy, easy to manage, and easy to afford virtual machine since late 2014.
They are very excited to share this months special deals. They have added two promo plans that will only be available in the month of June.
VPS Features
Fast Intel PCIe NVMe drives in RAID1
Free DirectAdmin License (Open a ticket)
We own our IPv4 space
We own and operate our own infrastructure
IPv6 on all plans
SolusVM/KVM – rDNS supported
They accept Credit Card, PayPal, Cryptocurrencies (BTC, ETH, XRP, and more), AliPay
Limited Time NVMe KVM VPS
NVM-MIAKVM-1.5G-Promo
1536MB RAM
25GB NVMe Disk Space
8TB Bandwidth
1 CPU Core
KVM Virtualization
$34.99 Per Year
Order in Miami, FL | Las Vegas, NV
NVM-MIAKVM-2.5G-Promo
2560MB RAM
35GB NVMe Disk Space
8TB Bandwidth
2 CPU Core
KVM Virtualization
Order in Miami, FL | Las Vegas, NV
They accept Credit Card, PayPal, Cryptocurrencies (BTC, ETH, XRP, and more), AliPay
Network Information
Las Vegas, NV:
Looking Glass: http://lv.hostodo.com/
Miami, FL:
Looking Glass: http://mia.hostodo.com/