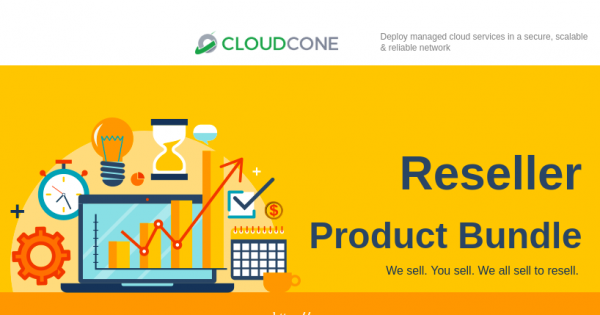 Get your reseller hosting game on with this awesome VPS + cPanel product bundle. Add CloudLinux + CloudCone's auto backups on to this bundle as well & install a billing automation software like 'WHMCS' as per your requirement to make the ultimate combination for you as a reseller.
Earn a higher ROI with these amazing bundles
Host 20 clients in your server for $5 each, you will be receiving a revenue of $100 per month
$100/mo [Revenue] – $25/mo [Expense] = $75/mo [Profit] 300% [ROI]
VPS Hosting
The virtualization technology of the VPS makes it convenient to move on to upgrades as the number of users grow on your business. Upgrades will occur with no downtime so you won't have to lose any important deals or clients.
If you do not have a thorough technical knowledge our support chat will also save you the cost of hiring professional help for technical issues & maintenance.
You're also able to scale/ customize your VPS as per your requirement, so that all your clients will receive a fair and quality service from you.
cPanel
cPanel is the way to go for resellers who are looking for convenience and simplicity. Configuring your reseller business can be done in GUI and hence wouldn't require deep technical knowledge. With cPanel, you will never run out of features such as backups, security, domain management, databases and so much more.
CloudCone is now an official NOC partner of cPanel and this means that as clients using cPanel, you will be able to experience faster cPanel activation and high priority cPanel support than before.
Reseller's Bundle Plans
+ Discounted cPanel
+ Free AnyCast DNS
Create an account here: https://app.cloudcone.com/signup
RS1 LIMITED
2 vCPU Core
4096 MB RAM
120 GB SAS
1 x IPv4 & 3 x IPv6
2 TB Bandwidth
$25/MO (billed $0.03360/HR)
RS2
3 vCPU Core
8192 MB RAM
200 GB SAS
1 x IPv4 & 3 x IPv6
3 TB Bandwidth
$35/MO (billed $0.04704/HR)
RS3
4 vCPU Core
16384 MB RAM
320 GB SAS
1 x IPv4 & 3 x IPv6
3 TB Bandwidth
$55/MO (billed $0.07392/HR)
Add-ons
CloudLinux: $9 per month
Additional IPv4: $1.00 per month
CDN: $0.045 per GB (45 Pops in 6 continents)
Snapshots: $0.09 /GB per month
Automated Backups: 35% of a server's monthly cost