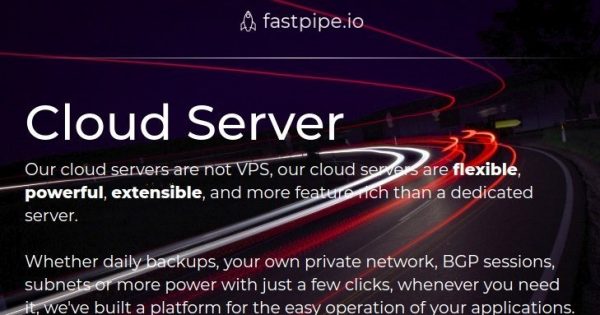 KMS-Hosting is now fastpipe.io. They have restructured and expanded our hosting offering. Their brand kms-hosting is now fastpipe.io which stands for flexible Cloud Servers, individualisation and fast scaling. They introduce new Cloud Server offerings, starting at 3,49€ per month.
Website: https://www.fastpipe.io
Cloud Server Features
Daily backups: Let us backup your instances every night at 02:00 am (CEST), without any service interruption. Backups are restorable for two days and can be used as an interesting alternative to manually making backups or maintaining extra scripts or services.
Snapshots: Create permanently available snapshots of your instances. You can restore a snapshot at any time.
Duplicate: In case you want to create a equal clone of a existing instance, They provide the ability to duplicate one instance into multiple instances. Clones keep exactly the same configuration and data as your source instance has, this provides you the advantage to spin up multiple instances from one existing instance within a short time, without the need of manually copying files and configuration data between them.
Private Lan: Run your own private network between multiple instances and enjoy the benefits of a fully private network which you can use e.g. for replication, your own network infrastructure and in general internal traffic.
Anti-DDoS: Protect your instances and applications from ddos attacks by using advanced and all-layer covering ddos-protection.
ISO Images: Dont want to use precreated Linux, BSD and Windows installation images? Just use your own iso images and install the operating system of your choice.
Cloud Server Pricing
With a small budget, you get a lot of power and possibilities with our Cloud Servers. Starting at 2,95€ ($3,32) per 30 days, we offer:
Cloud SE-2
One CPU Core (Intel Xeon E5v2/v3/v4 @ +2,5GHz)
2048MB ECC Memory
30GB SSD Storage
Debian, Ubuntu, CentOS and FreeBSD available as one-click installation
HDD Cloud

SSD Cloud

Network Information
+ Server Location: FFM2, Frankfurt, Germany
+ Connectivity: 10Gbit
+ Test IPv4: 89.33.16.16
+ Test IPv6: 2a01:367:beef:6666::16
+ Looking Glass: https://lg.combahton.net/
Payment methods
They accept PayPal, Paysafecard, Bitcoin, SEPA Bank Transfer and SEPA Debit