CloudCone – Exclusive Windows Cloud Servers Offers – 20% OFF in the first month!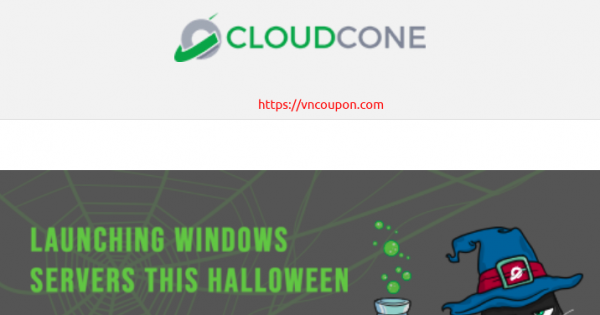 CloudCone offer Exclusive Windows Cloud Servers. Here's another scary-good deal for you to spin up your dream server this halloween! Come celebrate the season by deploying for 20% OFF in the first month! This offer is only valid for the FIRST 10 USERS so hurry and make it yours by adding the required funds.
Windows Cloud Servers run on Premium Dell hardware with powerful CPUs ranging from Xeon Silver and Xeon E5s with arrays of RAID 10 pure SSD drives for the best Windows Experience.
Now you can deploy a Windows Server 2016 or 2019 with RDP at CloudCone
Spook Windows VPS Offers
Spook-promo1 (20% off 1st month only)
3 vCPU Cores
4 GB RAM
60 GB RAID-10 SSD
1 x IPv4 and 3 x IPv6
3 TB Bandwidth
Free AnyCast DNS
$13.99/MO (Renews at: $17.49/MO)
Spook-promo2 (20% off 1st month only)
5 vCPU Cores
8 GB RAM
120 GB RAID-10 SSD
1 x IPv4 and 3 x IPv6
5 TB Bandwidth
Free AnyCast DNS
$26.99/MO (Renews at: $32.94/MO)
Spook-promo3 (20% off 1st month only)
8 vCPU Cores
16GB RAM
240 GB RAID-10 SSD
1 x IPv4 and 3 x IPv6
8 TB Bandwidth
Free AnyCast DNS
$49.99/MO (Renews at: $62.79/MO)
Spook-promo4 (20% off 1st month only)
16 vCPU Cores
32 GB RAM
500 GB RAID-10 SSD
1 x IPv4 and 3 x IPv6
10 TB Bandwidth
Free AnyCast DNS
$101/MO (Renews at: $125.76/MO)
NOTE: Add funds to match the relevant plan before deploying
Other promotions
Network Information
Looking Glass: http://la.lg.cloudc.one