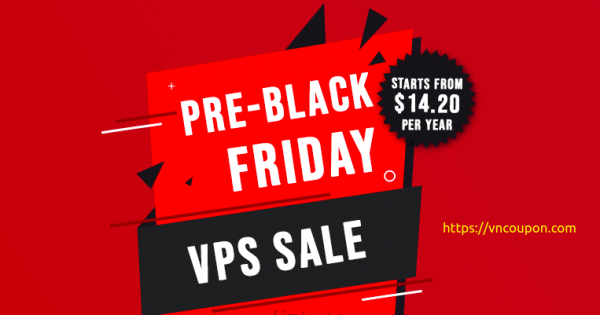 You don't have to wait until Black Friday to get the best VPS deals in town. CloudCone offer Yearly Cloud VPS Sale from $14.20/Year. Deploy yourself a CloudCone VPS today! Limited Stocks.
RISK FREE with a 7-day money back guarantee
Pre Black Friday 2021 – Cloud VPS Plans
Note: Please login to show plan.
Pre-Black Friday VPS 1
$14.20/Year
1 vCPU Core
1 GB Dedicated RAM
35 GB RAID-10 Drive
SSD Cached Storage
2 TB Bandwidth at 1Gbps
1 IPv4 address
Upgradable During Order
Instantly Deployed
Los Angeles, US
Pre-Black Friday VPS 2
$23.80/Year
2 vCPU Cores
2 GB Dedicated RAM
70 GB RAID-10 Drive
SSD Cached Storage
4 TB Bandwidth at 1Gbps
1 IPv4 address
Upgradable During Order
Instantly Deployed
Los Angeles, US
Pre-Black Friday VPS 3
$40.80/Year
2 vCPU Cores
3.5 GB Dedicated RAM
90 GB RAID-10 Drive
SSD Cached Storage
4 TB Bandwidth at 1Gbps
1 IPv4 address
Upgradable During Order
Instantly Deployed
Los Angeles, US
Pre-Black Friday VPS 4
$47.50/Year
3 vCPU Cores
4 GB Dedicated RAM
200 GB RAID-10 Drive
SSD Cached Storage
6 TB Bandwidth at 1Gbps
1 IPv4 address
Upgradable During Order
Instantly Deployed
Los Angeles, US
Pre-Black Friday VPS 5
$95.20/Year
4 vCPU Cores
8 GB Dedicated RAM
400 GB RAID-10 Drive
SSD Cached Storage
8 TB Bandwidth at 1Gbps
1 IPv4 address
Upgradable During Order
Instantly Deployed
Los Angeles, US
Cloud Features
100% Intel CPUs: Utilize the full power of Intel Xeon® processors clocked for high speed computing
DDoS Protection: On demand DDoS protection at network level, for free with your cloud server, powered by Voxility
Data Center: SOC II, HIPAA, PCI Certified data centers with high availability based in Los Angeles, USA
High-end networks: A securely monitored network consisting of multiple 1 Gbps links to our internet backbone
OS Reinstallation: Quickly rebuild your server with a new Operating System and start from scratch
Remote Management: Reboot, boot and shutdown your virtual private server any time with just a click of a button
Network Information