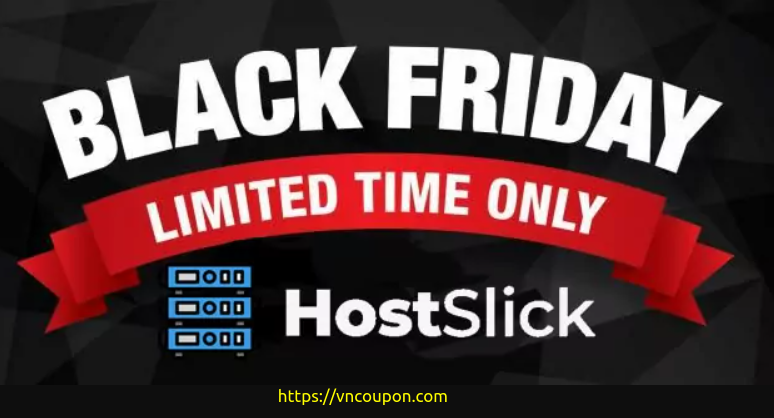 HostSlick.com has a simple aim. They provide their customers with high quality servers but keep prices down. Our goals are to offer their valued clients a great experience and offer the best Affordable and most Reliable Hosting arround. They have two Network and Datacenter Locations in The Netherlands with our their ASN and fiber running to Amsterdam.
Black-Friday is coming and until 15. December 2022 they offer 35% Discount on the following specials on their available and in stock Dedicated Servers!
COUPON: LZS25FN4GF
Every Dedicated Server includes
– BlazingFast SSDs
– 1Gbit Un-Shared Link included with any Server
– Permanent KVM-over-IP (HP ILO4 Advanced)
– Bandwidth Graph
– Sexy Control Panel with API to control your Server (Besides ILO4)
– Additional traffic can be added for cheap!
– Layer3/4 2Tbit Anti-DDoS Protection
– FREE BYOIP – Bring your own RIPE IPv4 (or IPv6 of course!) Subnet to us – we will announce it on our ASN for free with your own private VLAN etc.!
Black-Week Deals
Dedicated Server E5-2650-V2-32GB-2x1TBSSD Specifications
CPU – Intel Xeon E5-2650-V2 @2.60Ghz, Turbo 3,40Ghz
Cores/Threads – 8 Cores, 16 Threads
RAM – 32GB DDR3 ECC RAM
SSD/HDD – 2x 1TB SSD
Port Speed – 1 Gbps
IP Addresse(s) – 1
KVM/Managment – Yes
Location – Lelystad, Netherlands (EU)
Bandwidth included 50TB – 100TB!
LIMITED AMOUNT ONLY!
77.35€/month recurring ONLY!
USE COUPON: LZS25FN4GF
Dedicated Server Dual-E5-2650-V2-128GB-2x1TBSSD Specifications
CPU – 2x Intel Xeon E5-2650-V2 @2.60Ghz, Turbo 3,40Ghz
Cores/Threads – 16 Cores, 32 Threads
RAM – 128GB DDR3 ECC RAM
SSD/HDD – 2x 1TB SSD
RAID – Hardware RAID HP P220i
Port Speed – 1 Gbps
IP Addresse(s) – 1
KVM/Managment – Yes
Location – Lelystad, Netherlands (EU)
Bandwidth included 50TB – 100TB!
100€/month recurring ONLY!
USE COUPON: OEV28U22JE
Dedicated Server Promo Plans
=> [ Promo Link ]
Dedicated Server E5-2640-V1-16GB-2x480SSD
Intel Xeon E5 2640
6cores, 12 threads @2,40Ghz
16GB DDR4 ECC
2x 480GB SSD
50TB – DOUBLE: 100TB Bandwidth
1Gbit
55.25€/monthly
Dedicated Server E5-2650-V2-32GB-2x1TBSSD Specifications
Intel Xeon E5 2650v2
8cores, 16 threads @3,40Ghz turbo
32GB DDR3 ECC
2x 1TB SSD
50TB – DOUBLE: 100TB Bandwidth
1Gbit
€77.35EUR/month – using COUPON: LZS25FN4GF
Dedicated Server Dual-E5-2650-V2-64GB-2x1TBSSD Specifications
2x Intel Xeon E5 2650v2
16cores, 32 threads @3,40Ghz turbo
64GB DDR3 ECC
2x 1TB SSD
50TB – DOUBLE: 100TB Bandwidth
1Gbit
€90.35EUR/month – using COUPON: LZS25FN4GF
Dedicated Server Dual Intel Xeon E5-2650-V2-64GB-2x3TBHD
2x Intel Xeon E5 2650v2
16cores, 32 threads @3,40Ghz turbo
64GB DDR3 ECC
2x 3TB HD
50TB – DOUBLE: 100TB Bandwidth
1Gbit
€87.75EUR/month – using COUPON: LZS25FN4GF
Dedicated Server Dual Intel Xeon E5-2650-V2-64GB-2x3TBHD
2x Intel Xeon E5 2650v2
16cores, 32 threads @3,40Ghz turbo
128GB DDR3 ECC
2x 1TB SSD
50TB – DOUBLE: 100TB Bandwidth
1Gbit
€109.85EUR / Month – using COUPON: LZS25FN4GF
Network Information
IP: 193.142.146.186
Testfile: 193.142.146.186/100MB.bin
Datacenter/Network: HostSlick, AS208046
Payment Methods
Bitcoin and many other altcoins (via Coinify)
Giropay (via Skrill)
SofortBanking/SofortÜberweisung (via Skrill)
PayPal
Credit Card (via 2checkout)
SEPA Bank Transfer (Open Ticket for Bankd etails)
PerfectMoney
AliPay
Unionpay