HostSolutions.ro – Offshore VPS in Romania – No DMCA – Torrent allowed start from €7EUR/Year – 1GB RAM Special VPS only $1/month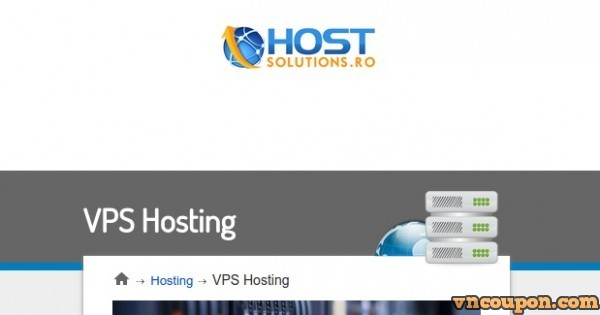 HostSolutions.ro offers a wide range of virtual servers (VPS). A Virtual Server is basically a server dedicated to the miniature. By choosing one of their VPS packages offered to benefit from full access to the server, and also you can host unlimited sites.
Note: Located in Romania, DMCA ignore, Torrent allowed.
TOS: http://en.hostsolutions.ro/about/tos/
They offer 49% off in all their plans from their webpage www.hostsolutions.ro (payed minimum for 1 year using the coupon code "summerstorage") recurring 2 times (if you pay yearly you will have this price durring 2 years. etc)
The delivery time can take up to 9 days (until the day 24.06.2019) and once is delivery they will change the next due date in this case you will not lost nothing.
Special VPS Offer
HOT – KVM VPS 1TB
If you need bigger plans you can visit this web page using the same coupon: kvm30off
Negocieri – 512MB RAM (Amazing offers – Very limited stock)
VEL1 – 512 mb ram (Amazing offers – Very limited stock)
1GB RAM OpenVZ (NEW – HOT)
Offer 1
Offer 2
Offer 3 – 4GB RAM 
+ High Ram Plan: Click Here
Yearly VPS Offers
64MB Plan
128MB Plan
256MB Plan
Storage VPS Offer
1 gb ram, 100 GB HDD
2 gb ram 350 GB HDD
4GB RAM & 400GB HDD
Storage VPS – 1 TB VPS (HOT)
Storage VPS – 2 TB VPS
Storage VPS – 4 TB VPS
Note: With Storage VPS, ALL THIS ORDERS WILL BE DELIVERED IN 4-7 DAYS !!!
SSD VPS Offers
SSD-LXC- plan1
SSD-LXC- plan2
Dedicated Servers Promo – 50% Off for life from 14.5 euro/month: Click Here
Shared Hosting Offers
Payment Information
You can pay with : Bitcoin , paypal , credit card, banck transfer
5 days money back guarantee too in this offer
Network Information
+ Test IPv4 1: 86.107.110.19
+ Test IPv4 2: 82.77.50.229
+ Test file download: 100 MB, 200 MB
1 Benchmark on HostSolutions VPS
System Info

Processor : Intel(R) Xeon(R) CPU X5660 @ 2.80GHz
CPU Cores : 24
Frequency : 2800.293 MHz
Memory : 380541 MB
Swap : 179871 MB
Uptime : 3:22,

OS : Debian GNU/Linux 7
Arch : x86_64 (64 Bit)
Kernel : 2.6.32-48-pve
Hostname : bor3

Speedtest (IPv4 only)

Location Provider Speed
CDN Cachefly 79.8MB/s

Atlanta, GA, US Coloat 11.6MB/s
Dallas, TX, US Softlayer 11.7MB/s
Seattle, WA, US Softlayer 10.1MB/s
San Jose, CA, US Softlayer 9.00MB/s
Washington, DC, US Softlayer 14.2MB/s

Tokyo, Japan Linode 9.07MB/s
Singapore Softlayer 9.61MB/s

Rotterdam, Netherlands id3.net 35.6MB/s

Haarlem, Netherlands Leaseweb 79.8MB/s

Disk Speed

I/O (1st run) : 289 MB/s
I/O (2nd run) : 308 MB/s
I/O (3rd run) : 305 MB/s
Average I/O : 300.667 MB/s