Virtono – New cloud VMs in 6 Locations from €9.95/ Year – Coupon Inside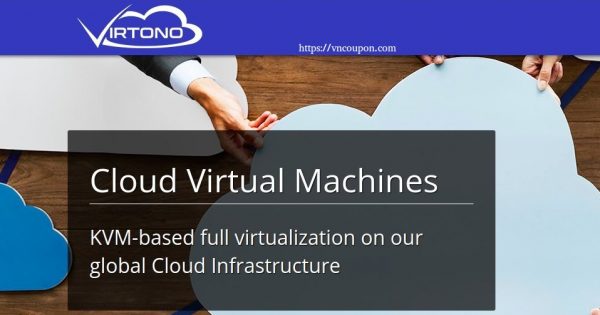 Virtono provide Managed (shared, reseller and dedicated ) and Unmanaged (vps, cloud vm and dedicated ) cloud hosting services.
About Virtono
Since our founding in 2014, we happily served thousand of clients from all over the world and we continually searched new ways to deliver on our mission: High Quality at Fair Prices. We are now very proud that we discovered and adjusted the right combination between qualitative and affordable web hosting solutions.

We built our team around colleagues with valuable experience in web hosting, virtualization, cloud infrastructure and customer support. Our management has over 15 years of executive experience in Romanian's top telecom companies.
They offer in 6 Cloud Locations in Europe : Bucharest, RO – Manchester, UK – The Hague, NL – Frankfurt, DE – Oslo, Norway(new) – Copenhaga, Denmark(new) .
Coupon code
1 – Get an extra 10% discount using the coupon code LET10EXTRA
2- Use coupon code: let15extra coupon at checkout and receive 15% lifetime discount.
Cloud XS (NEW Plan)
15GB SSD
1 Core Processor
512MB Memory
1GB RAM burst
1 IPv4 Address
1 IPv6 Address
1TB Bandwidth @ 1Gbps
€2.5/month with coupon code "

let15extra

"
Cloud S
20GB SSD
1 Core Processor
1GB Memory
1Gbps Connection
1 IPv4 Address
1 IPv6 Address
2TB Bandwidth
Starting from 

€5.95 EUR 

Monthly
Starting from 

€4.5 EUR 

Monthly
€3.35/month with coupon code "

let15extra

"
50% discount on yearly payment: €23.70/Year
Cloud M
40GB SSD
1 Core Processor
2GB Memory
1Gbps Connection
Up to 2 IPv4 Address
Up to 2 IPv6 Address
3TB Bandwidth
Starting from €11.95 EUR Monthly
Starting from €9.95 EUR Monthly
Cloud L
80GB SSD
2 Core Processor
4GB Memory
1Gbps Connection
Up to 4 IPv4 Address
Up to 4 IPv6 Address
4TB Bandwidth
Starting from €21.95 EUR Monthly
Starting from €19.95 EUR Monthly
The payment methods are: PayPal, online Credit Card, Skrill, Bitcoin (Bitpay), Bank Wire Transfer.
+ SSD VPS offers: Click Here
+ Shared Hosting Offers: Click Here
Network Information
Bucharest, RO
+ Download test: http://85.204.49.17/1000mb.bin
+ Ping IPv4: 85.204.49.17
Manchester, UK
+ Download test: http://77.81.107.11/1000mb.bin
+ Ping – IPv4: 77.81.107.11
The Hague, NL
+ Download test: http://77.81.110.13/1000mb.bin
+ Ping IPv4: 77.81.110.13
Frankfurt, DE
+ Download test: http://77.81.109.10/1000mb.bin
+ Ping IPv4: 77.81.109.10
Copenhaga, DK – Only for KVM (Cloud VMs & Dedicated Instances)
+ Download test: http://185.154.19.103/1000mb.bin
+ Ping IP: 185.154.19.103
Oslo, NO – Only for KVM (Cloud VMs & Dedicated Instances)
+ Download test: http://185.154.16.10/1000mb.bin
+ Ping IP: 185.154.16.10