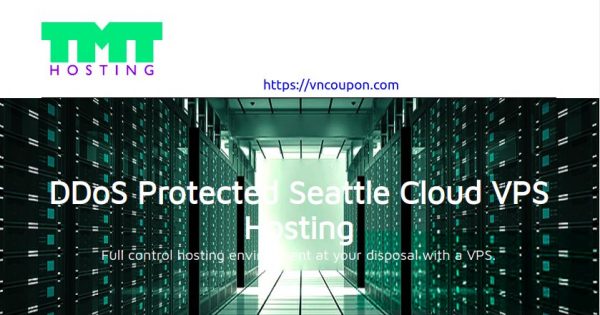 On Summer 2021, Save up to 35% Recurring Discount Seattle NVME SSD & HDD VPS with TMT Hosting
About TMT Hosting
If you're an enterprise level business, a small business or even someone who needs a server or web hosting for personal use. TMT Hosting have a suitable Plan for you, TMT Hosting utilise high performance dedicated servers which are DDOS Protected to make sure your server is online 99.9% of the time.

TMT Hosting's aim is to deliver outstanding customer support by giving our customers trustworthy, friendly and competent support to meet our customer's needs. TMT Hosting has many support outlets such as live chat assistance, support tickets, telephone support lines and a discord server to help our customers get in touch with us at any time of day or night. Combine that with a 99.99% uptime guarantee so you know you're in safe hands with us.
TMT Hosting Coupon & Discount Codes
VPS Hosting Features
Powerful and Secure Servers
99.9% Uptime Guarantee
24/7 Dedicated Support
1,000 Mbps Uplink Ports
Instant Setup
Addons Available
Easy upgrade or downgrade
and much more!
SSD NVME Intel E3 Powered VPS's
E3 SSD NVME VPS Plan 1 – $5.95 / £4.95 / €4.95
512MB Memory
12GB Disk Space
1500GB Transfer @ 1Gb/s
2 vCore (3.4 GHz+) Processor
1 IPv4 + /64 IPv6 Address
Virtualizor Control Panel
20GB/s (40GB/s Burst) DDOS Protection
99.99% Uptime Guaranteed
24/7 Support
Recurring 20% Discount Coupon Code: SUMMERSALEVPS2021
E3 SSD NVME VPS Plan 2 – $9.95 / £8.95 / €8.95
1024MB Memory
25GB Disk Space
2000GB Transfer @ 1Gb/s
2 vCore (3.4 GHz+) Processor
1 IPv4 + /64 IPv6 Address
Virtualizor Control Panel
20GB/s (40GB/s Burst) DDOS Protection
99.99% Uptime Guaranteed
24/7 Support
Recurring 20% Discount Coupon Code: SUMMERSALEVPS2021
E3 SSD NVME VPS Plan 3 – $24.95 / £19.95 / €19.95
2048MB Memory
50GB Disk Space
3000GB Transfer @ 1Gb/s
2 vCore (3.4 GHz+) Processor
1 IPv4 + /64 IPv6 Address
Virtualizor Control Panel
20GB/s (40GB/s Burst) DDOS Protection
99.99% Uptime Guaranteed
24/7 Support
Recurring 20% Discount Coupon Code: SUMMERSALEVPS2021
E3 SSD NVME VPS Plan 4 – $48.95 / £36.95/ €42.95
4096GB Memory
100GB Disk Space
4500GB Transfer @ 1Gb/s
3 vCore (3.5 GHz+) Processor
1 IPv4 + /64 IPv6 Address
Virtualizor Control Panel
20GB/s (40GB/s Burst) DDOS Protection
99.99% Uptime Guaranteed
24/7 Support
Recurring 20% Discount Coupon Code:

SUMMERSALEVPS2021
E3 SSD NVME VPS Plan 5 – $79.95 / £59.95/ €71.95
8048MB Memory
200GB Disk Space
6000GB Transfer @ 1Gb/s
4 vCore (3.5 GHz+) Processor
1 IPv4 + /64 IPv6 Address
Virtualizor Control Panel
20GB/s (40GB/s Burst) DDOS Protection
99.99% Uptime Guaranteed
24/7 Support
Recurring 20% Discount Coupon Code: SUMMERSALEVPS2021
Payment Methods
They currently accept PayPal, Credit Card /Debit Card, Paysafecard, Crypto Currencies, Ali Pay & We Chat Pay
Network Information
Seattle, Washingtom
Looking Glass: https://lg-sea.tmthosting.net