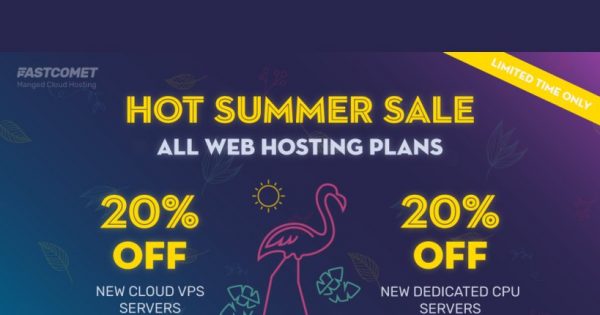 This summer, they would love your help spreading the word about SSD Cloud hosting to your friends, audiences, viewers, and followers! The more you share, the better the chance for conversion (ca-ching!), so let's get started today!
* The offer is only valid on new hosting packages, not applicable on renewals or existing hosting plans.
FastComet Summer Sales
Sale Details: 70% OFF all new FastCloud Shared Hosting plans plus Free Website & Domain Transfer
Coupon Code: HOT70CLOUD
Sale Starts: Tuesday, June 22th, 6:00 A.M. EST
Annual terms are great long-term opportunities for customers to save money AND give you a better opportunity to earn commissions as these are the packages the customers least cancel.
Sale Details: 20% OFF all new Managed SSD Cloud VPS & Multiple Locations
Coupon Code: HOT20CLOUD
Sale Starts: Tuesday, June 22th, 6:00 A.M. EST
Sale Details: 20% OFF all new Managed Dedicated CPU Servers & Multiple Locations
Coupon Code: HOT20CLOUD
Sale Starts: Tuesday, June 22th, 6:00 A.M. EST