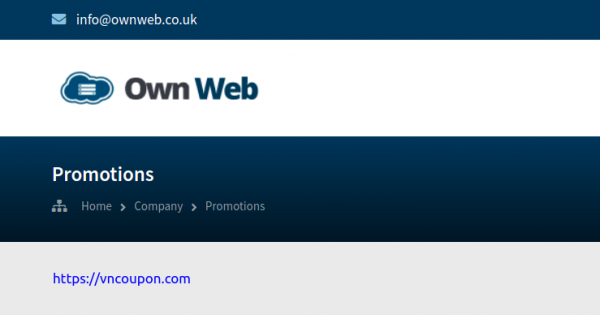 Today, we received a promo email from Own Web
Fresh Start – Fresh Deals.

Dear Friend,

It has been a hard couple or months for Own Web with our reforms however we have finally got there. Because of the closure of our other websites we have gone from 600 VPS to 94 and believe this was the correct decision so we can focus on Own Web and its customers.

To celebrate the turning over of this new leaf we have created some unmissable offers for our current customers.
Limited Promotion from Own Web
UK VPS + cPanel License
2×3.7Ghz Intel Xeon
8 GB DDR4 RAM
40G SSD Disk
100 cPanel Account License
2 IP & IPv6
UK Location
Unlimited cPanel Reseller Hosting
Unlimited SSD Storage
Unlimited Traffic
65 cPanel Accounts
DDoS Protection
cPanel & WHM
UK Location
cPanel Shared 1 Hosting
1GB SSD Storage
Unlimited Traffic
5 Domains
DDoS Protection
Dedicated IP
UK Location
These deals will expire on the 26/04/2021 or until stocks last.