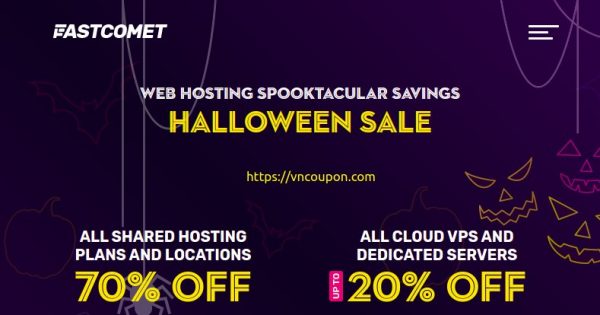 The FastComet Jack O'Lantern has prepared for you a sweet surprise (and we are not talking about razor apples) – 70% off our Shared Hosting Plans and up to 30% off our VPS and Dedicated Servers.
=> [ Promo Link ]
Note:
The offer is only valid on new hosting packages, not applicable on renewals or existing hosting plans.
Cloud VPS/Dedicated CPU Server offerings are starting from 20% and amping the discount to 30% as we near Halloween.
70% OFF all new Shared Hosting & Multiple Locations
Coupon Code: TREATS70
Sale Starts: Monday, October 18th at 6:00 A.M. EST
Sale Ends: Monday, November 1st at 6:00 A.M. EST
Annual terms are great long-term opportunities for customers to save money AND give you a better opportunity to earn commissions as these are the packages the customers least cancel.
30% OFF all new Managed SSD Cloud VPS & Multiple Locations
Coupon Code: TREATS30
Sale Starts: Monday, October 18th at 6:00 A.M. EST
Sale Ends: Monday, November 1st at 6:00 A.M. EST
30% OFF all new Managed Dedicated CPU Servers & Multiple Locations
Coupon Code: TREATS30
Sale Starts: Monday, October 18th at 6:00 A.M. EST
Sale Ends: Monday, November 1st at 6:00 A.M. EST