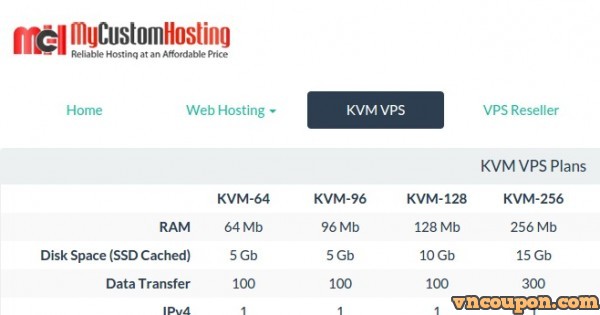 My Custom Hosting was registered back in 2009 and has been providing hosting to customers for almost 8 years. We aim to offer your the most features at the lowest price possible. With multiple offsite backup locations, CloudFlare, Softaculous and Nginx+Varnish, and now OpenVZ and KVM VPS, we feel we are almost there but if you have any suggestions to a feature we should add to our lineup please let us know!
Standard Features
– SolusVM Powered
– Native IPv6
– Powerful Intel E5 CPU's
– SSD-Caching
– NO BS!
– DDoS Protection (Provided for free via OVH PRO DDoS protection, ticket to have this enabled full time or on demand.)
Recent Changes
– Added CentOS 7 template!
– Created a script to set up networking when installing from an ISO. Can be found in KB!
– Added CentOS 7 ISO.
– Added CentOS 5 x86 / x86_64 and Ubuntu 14.04 LTS x86 / x86_64 templates.
– All new VM's will come with an internal IP address! Existing clients please ticket for an internal IP address.
– Weekly backups are being reconsidered at this time due to the issues experienced with the last node failure in NC.
– Nightly backups have been changed to weekly due to more than half of the nodes taking longer than 24 hours to complete the backup process.
– With the help of a few members here I have made changes to all of the KVM templates provided. They will now auto-configure the network connection of your Canadian KVM VPS. Provision and go! Enjoy!
KVM Canada Offers
LET-OCT-1GB-10GB-1TB-MONTHLY
LET-OCT-2GB-20GB-2TB-MONTHLY
Plan Name: LET-OCT-3GB-30GB-3TB-MONTHLY
LET-OCT-4GB-40GB-4TB-QUARTERLY
Plan Name: LET-OCT-512MB-10GB-4TB-YEARLY
Windows Allowed?
– Yes, with a few caveats.
– You must own a retail license for a server OS that is licensed correctly. You will need to submit proof of this.
– No bizspark or MSDN / Technet etc.
– No trials.
– Please open a ticket and this can be taken care of!
Payment Types Accepted
– Paypal & Credit Card (via Stripe)
– BTC, LTC, DASH, DCR, DGB, DOGE, ETC ETH, GAME, NMC, POT, VTC, WAVES, and XMR accepted also!!
Speed Test / Traceroute / Looking Glass
Montreal KVM Looking Glass