ServerHub Black Friday 2020 Offer – Get up to 50% off select servers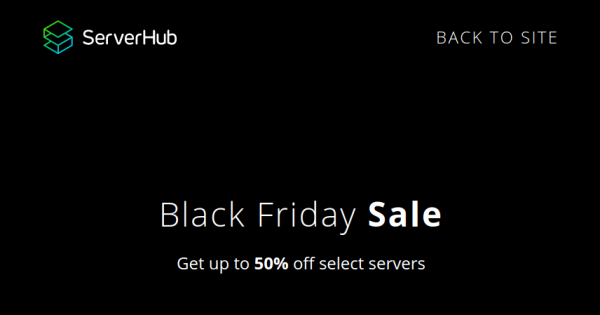 We're glad ServerHub stopped by for Black Friday 2020 because they've got some great dedi offers for VN Coupon.
They're also dropping some site-wide recurring coupon codes.  See below for all the details.  These offers are in different specific geographies, so look closely at the location.
Black Friday Sidewide Sale
Black Friday 2020 Dedicated Servers Offers
Enterprise Network and Hardware backed by superior Support
BlackFriday 2020 – 1 x E3 1230v1 or Better
BlackFriday 2020 – 1 x E3 1275v5 or Better
BlackFriday 2020 – Dual E5 2680v4
BlackFriday 2020 – Dual Intel Scalable 4114
Network Information